Birds & Grit
Updated on 9/14/13, Originally posted on 11/19/11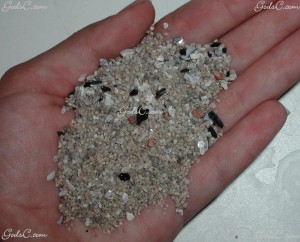 Weekly Bible Verse: Luke 12:6 "Are not five sparrows sold for two copper coins? And not one of them is forgotten before God.
Here are the verses before and after Luke 12:6.
Luke 12:4-7 "And I say to you, My friends, do not be afraid of those who kill the body, and after that have no more that they can do. 5 But I will show you whom you should fear: Fear Him who, after He has killed, has power to cast into hell; yes, I say to you, fear Him! 6 "Are not five sparrows sold for two copper coins? And not one of them is forgotten before God. 7 But the very hairs of your head are all numbered. Do not fear therefore; you are of more value than many sparrows.
From verses 4-5 we see that man can only do so much to us but ultimately it is God who judges us and we should fear Him more than man.  From verse 6 we see that God knows when even a tiny sparrow dies.  In verse 7 it talks about how much more valuable you are to God.  If God notices even when a tiny sparrows dies you can be sure that he notices you, for you are more valuable than many sparrows.  God loves you so much that He knows all about you even how many hairs are on your head.  Serve the Lord and turn to Him that He might save you.  >>Click Here to read how to be saved<<  Now on to our creature tip.
Grit looks something like sand or fine gravel.  Feeding grit to your bird provide minerals and other nutrients that are very beneficial to your bird.  In addition to this, grit also helps seed eating birds break down its food so it is easier to digest.  Birds do not have teeth so when they eat grit it lodges itself in the gizzard and acts like teeth.  The rough edges of the grit grind up the seeds.  It is not always necessary to feed grit to your bird; it all depends on what is already present in your birds' current diet and breed of your bird.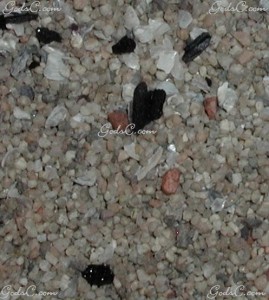 There are different kinds of grit sold by different companies but not all of them are of good quality.  Look for a grit that has oyster shells in it, as they are very good for birds because oyster shells provides calcium. Grit also comes in different sizes; some are fine like beach sand, some are more rocky than fine, and some are bigger chunked like a fine gravel.  The breed of bird will determine what size grit should be given.  Small birds, such as finches and some canaries, would need a grit that is finer, more like beach sand.  Larger birds will need a rockier, and bigger chunked grit like fine gravel.
It is important not to over feed grit to your birds.  Some birds you can free feed grit to but other birds you can not.  If a bird has never been fed grit before it could be lacking minerals and may try to consume too much in a feeding frenzy.  This could cause harm to the birds' digestive system causing an obstruction due to a large intake of grit.  A feeding example of grit for Parakeets/Budgerigars; feed 1/8 teaspoon every 2-3 days.  Remember that grit is a supplement so always offer plenty of seed and fresh water to your bird.  Be sure to talk to your birds' veterinarian to be sure he/she is getting the proper nutrition.
Responses to Birds & Grit