Mealworms were created on the 6th day of creation
24 Then God said, "Let the earth bring forth the living creature according to its kind: cattle and creeping thing and beast of the earth, each according to its kind"; and it was so.
 Genesis 1:24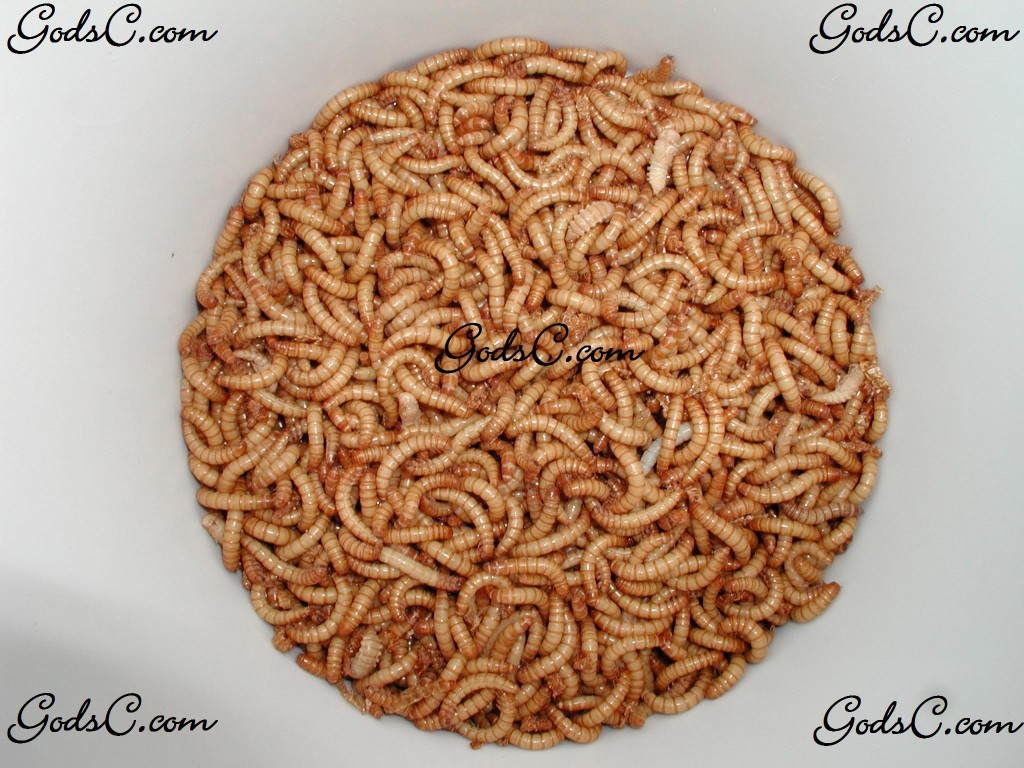 About the mealworm: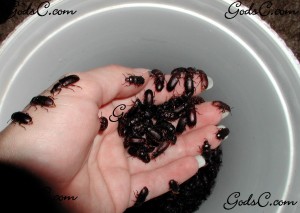 The first thing you need to know is that mealworms are not worms.  They are larva from an adult beetle.  These beetles are a kind of Darkling Beetle.  The reason why they are called mealworms is simply because they look like worms as larva.  If you look closely at a mealworm you will see it has six legs.  When a male and female beetle mate the female will lay 100's of eggs that are whitish in color (and about the size of a pin head) that will hatch in about 2 weeks.  As the larva grows it will shed its exoskeleton; a little like a snake would do.  When the larva becomes around an inch in length, (if it is a small mealworm) it will cocoon into a pupa.  Their are many kinds of Darkling Beetle species.  When hatching a white colored beetle will emerge, and will soon darken to brown, then black.  The beetles will live for 2-5 weeks.  After this last stage, it starts all over again.  There are three sizes of mealworms that pet stores sell; the small mealworm (grows to about an inch and then turns into a pupa), the giant mealworm (grows to about two inches and then turns into a pupa), and the supper mealworm (grows to about three inches and then turns into a pupa).  Mealworms can be a great source of food to feed a number of different kinds of animals like: amphibians, reptiles, birds, and rodents.  It is important to note that it is never a good idea to feed only mealworms to amphibians or reptiles because mealworms are sometime not high enough in protean to meet an amphibian or reptile's needs.  Mealworms are also harder to digest because they have an exoskeleton.  I am not saying mealworms are bad to feed, I am just saying they should not be fed as a sole diet.  Mealworms are a lot easier to care for compared to crickets and they do not escape or stink like crickets!
Life Cycle:
1. The Egg
The egg will hatch in about 2 weeks
2. The Mealworm
Because a mealworm has an exoskeleton, it will shed every time it grows.  Each time a mealworm sheds it will be soft and white until the new exoskeleton hardens, in about an hour, then it will become a darker color.  A mealworm will shed its exoskeleton 9-20 times before it becomes a pupa.  Fat round mealworms are a sign of a healthy colony and if you have a lot of mealworms that are flat on their bellies they need more food or the food you are feeding is not nutritious enough.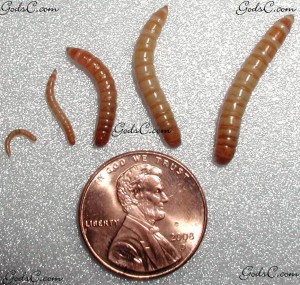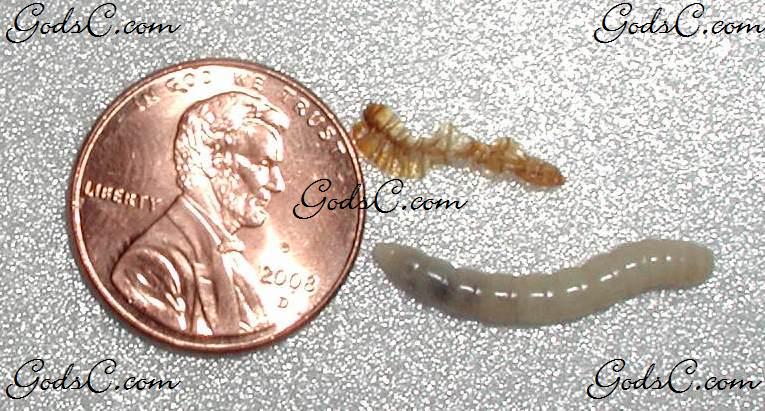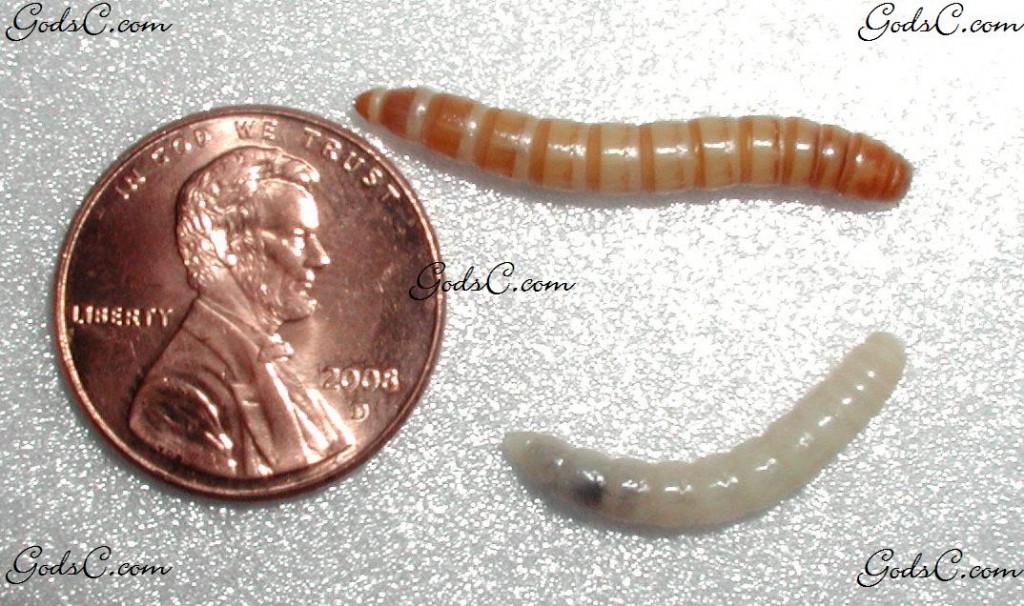 3. The Pupa
When a worm transforms into a pupa it again becomes soft and white.  Shortly after the pupa will darken and harden just like the mealworm would do when it sheds.
4. The Adult Beetle
This is the final stage.  After about 2 weeks the transformed worm will emerge as a creamy whitish beetle.  The beetle will darken to a brown color and then black.  Sometimes if a worm was not healthy when it started to cocoon, when it hatches it will stay brown and or even have a deformed body.  If you feed your worms well before they go in to the pupa stage they will come out and turn a nice black color.  Also, if a worm or beetle is white and soft they will sometimes be eaten on by other worms or beetles.  If this is happening alot, it is because they are not getting enough nutrition and need more food, or you have too many sizes and stages grouped together and you need to separate them.  Nice dark beetles are a sign of a healthy colony.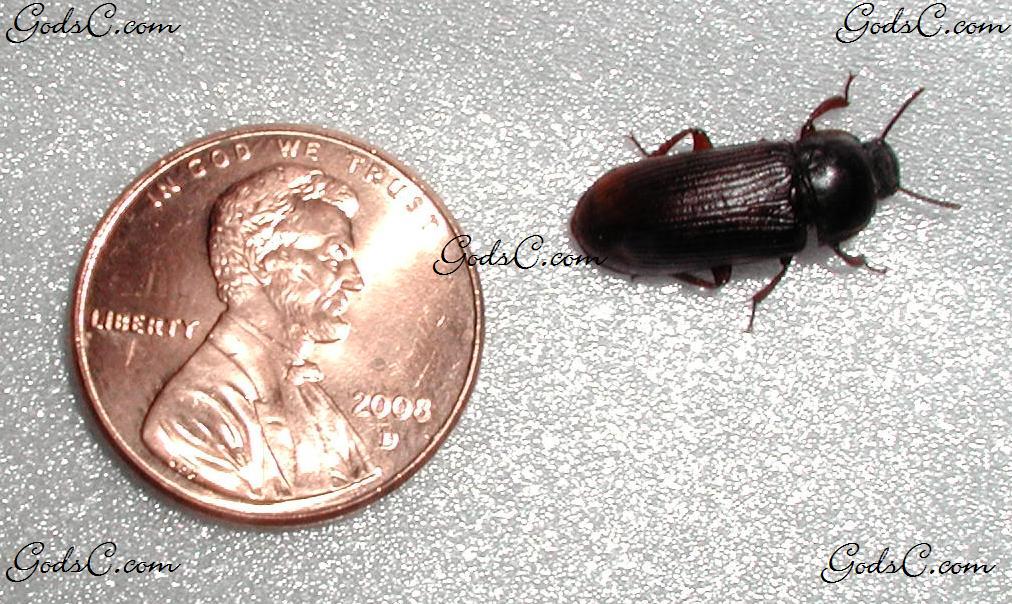 Housing: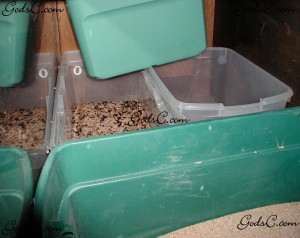 Plastic is the best to work with because it is not going to break if dropped like glass and it is a lot lighter too.  You can buy plastic storage tubs at places like Wal-Mart or Target and these tubs make great housing for mealworms.  I think the cheapest place to buy them is at Wal-Mart.  Sometimes other stores will have clearances (IE Target) or  sometime stores will discount plastic storages boxes that are missing lids and this is perfect because you do not need the lids.  Mealworms do not climb, jump, or fly like crickets and cockroaches and the beetles are not going to fly out of a tub with food and plenty of beetles to mate with in it.  I don't think my mealworm beetles can fly one foot high.  When I breed mealworms, I never use lids because I have never had a problem with flying beetles!  Usually beetles only use their wings to turn themselves over if they get stuck upside down on a hard surface.  It is easy when selecting a tub for you worms/beetles because you don't have to find a very tall tub and you don't have to worry about finding the smoothest tub to prevent climbing.
Bedding: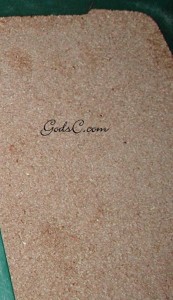 I use wheat bran for my bedding because it is a source of food and it keeps the worms off each other so they do not over heat.  I place 2-5 inches of bran in a tub depending on how many will be living in the bedding.  Depending on the size of your plastic tub and how many mealworms you are going to put in it will determine how much bedding to put in.  If you have a large colony, put more bedding in so they have enough room to not be on each other.  You can also use raw oatmeal but wheat bran is cheaper and you can buy it at most feed stores for around $12.00 for 50lb.  If you only want to breed a few mealworms you can use the oatmeal; but if you want to breed them in bulk go with the wheat bran.
Preparing the wheat bran:
An important note about wheat bran is sometimes there are tiny black beetles, or bugs that are so tiny they are almost invisible, like tiny grain mites.  If your mealworms have contact with grain mites you may very well lose the entire colony!  I have experienced this first hand and let me tell you it was terrible.  To prevent this from happening all bedding should be heated up in the oven.  I use 4 large glass trays and fill them to the top with bran and place them in the oven.  You do not want to burn the bran or bake it, you just want to kill any living things that might be in it.  Heat it up to 175-200 degrees Fahrenheit for about 20 minutes.  Take care to watch it closely to make sure it does not burn.  Last thing about the bedding: make sure it has cooled plenty before adding mealworms or beetles to it, as hot temperatures over 95 degrees Fahrenheit can kill them.
My experience with grain mites: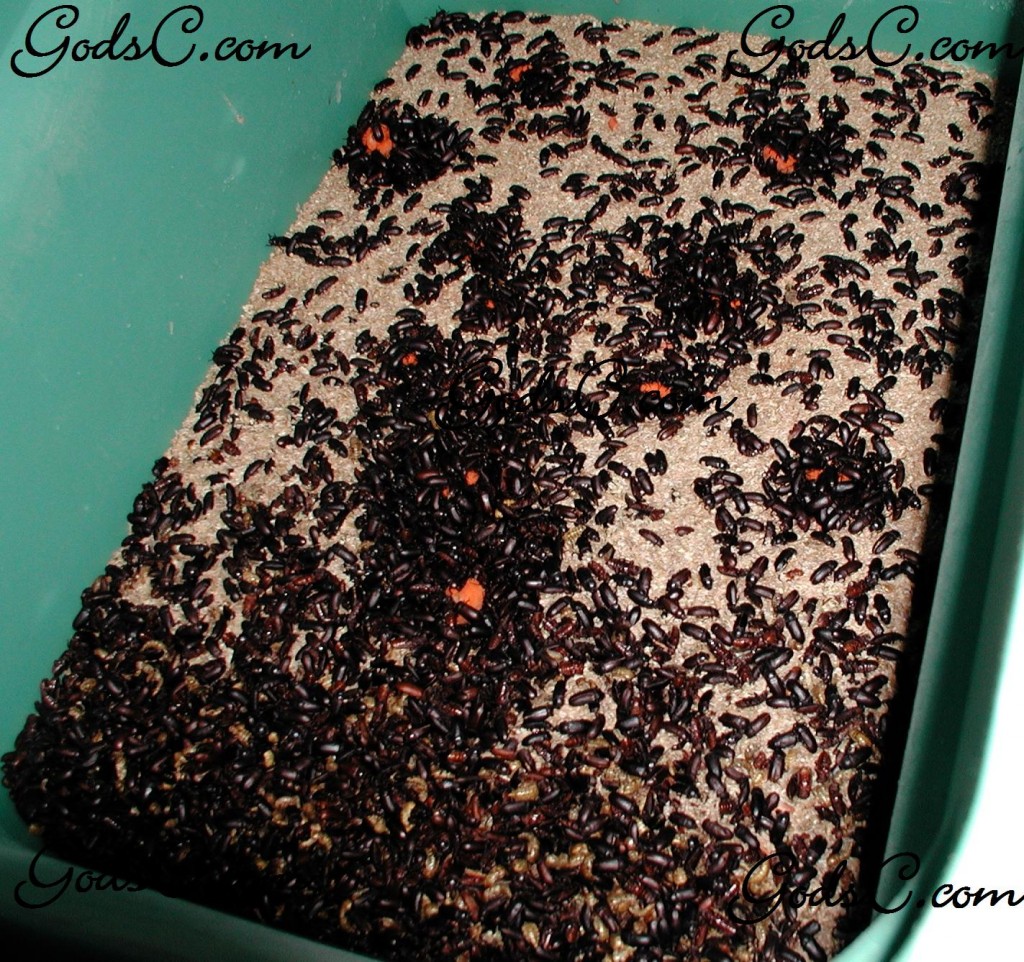 It started out with these little white colored bugs that would gather on the mealworms' food that was moist like carrots.  Then next thing I knew these little bugs had attached themselves to my beetles!  These little bugs multiplied rapidly and soon every beetle and worm had them.  When these bugs attached themselves to my beetles and worms they constricted the movement of beetles and worms thus stopping them from being able to get to the carrots for water/food.  In the end these tiny bugs killed off my entire colony.
More about grain mites:
Grain mites are very small, whitish/yellow in color and stink.  Often they are in wheat bran and when they come in contact with mealworms or the beetles they will attach themselves to them and lay eggs on them.  Eventually there will be so many eggs and mites on the mealworms or beetles that they will no longer be able to move.  Also, I think the mites may suck on the mealworms or beetles to slowly weaken them.  I do not know of a way to kill the mites without killing the worms and beetles this is why it is so important to heat the wheat bran so that it kills any eggs and mites that may be present in the bran.  Freezing the bran will not work on killing the mites or tiny bugs because they can go into hibernation for long, long periods of time.  But cooking them is a different story.  It is just like people cooking food; it kills off all the bacteria and tiny bugs.  Would you consider raw frozen meat safe to eat?  No, everyone knows you need to cook it.  Also, sometimes home grown vegetables and fruits can carry harmful bugs.  I use store bought carrots and have had no problems.  I am sure they use chemicals of some kind on them that kill small bugs; however I have never had store bought carrots harm my mealworms but I do rinse them off first.  Grain mites are very strong, durable bugs.  The eggs can stay dormant for months and go without food.  When they hatch from their egg they only live for about 17 days; but one female can lay hundreds of eggs a day!  Grain mites thrive in high humidity levels especially over 75%, this is a good reason to not use lids on your tubs and not over feed your worms.  If your colony should get grain mites the best thing to do is destroy them and start all over.  If you want you can try lowering the humidity to under 55% and the grain mites should die but the trouble is the eggs that the grain mites lay are very durable, and could survive.
Feeding: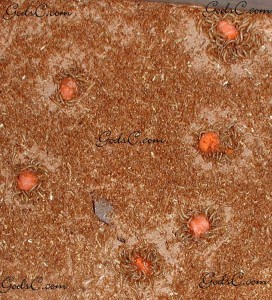 An interesting fact about mealworms is they are mostly nocturnal, so night is the best time to feed them. I feed my worms once every night.  I feed them carrots that have been rinsed off with water.  I cut them up into small slices or cubes.  Use caution not to feed more than they can eat in 24 hours or so.  If you feed too muc the carrots will become molded causing bacteria killing the worms.  If you do feed too much on accident just don't feed them for 48 hours.  Check under the wheat bran to see if they still have carrots left before feeding.  Also you can feed them other things like potatoes or apples but then you have to remove the skins that the worms and beetles do not eat.  I buy 25lb of carrots in the produce section for $5.99 at Albertsons.
Watering:
As for water you do not need to give them any. They get all the water they need in the carrots.
Location to breed you worms:
I breed my mealworms inside my house in a room that does not get too cold in the winter nor too hot in the summer.  I do not keep them near any windows, to not to take any chances of mites or other bugs finding their way to the mealworms.  A good temperature to breed mealworms is about 77 degrees Fahrenheit; but it is not a huge deal if it gets a little cooler or hotter.  I breed them in my house at what ever the temperature happens to be at.  I would not breed them in a shed or garage because it will be too hot in the summer and most likely kill a good number of them and in the winter it will be too cold.  All this will slow down their breeding rate and growth.  Also, if you have cats make sure they don't use the tubs as litter boxes!  Last thing; if you have a person that sprays your house with bug poison, make sure it does not get sprayed on or in the tubs!  It actually is a good thing to have bug poison sprayed in the same room as your mealworms because it will kill all the bad bugs that may get to your mealworms.  Just make sure it is not sprayed heavily in the room.  You should never place a tub inside another tub or else the poison on the bottom of the tub will get into the tub it is stacked in.
Sifting: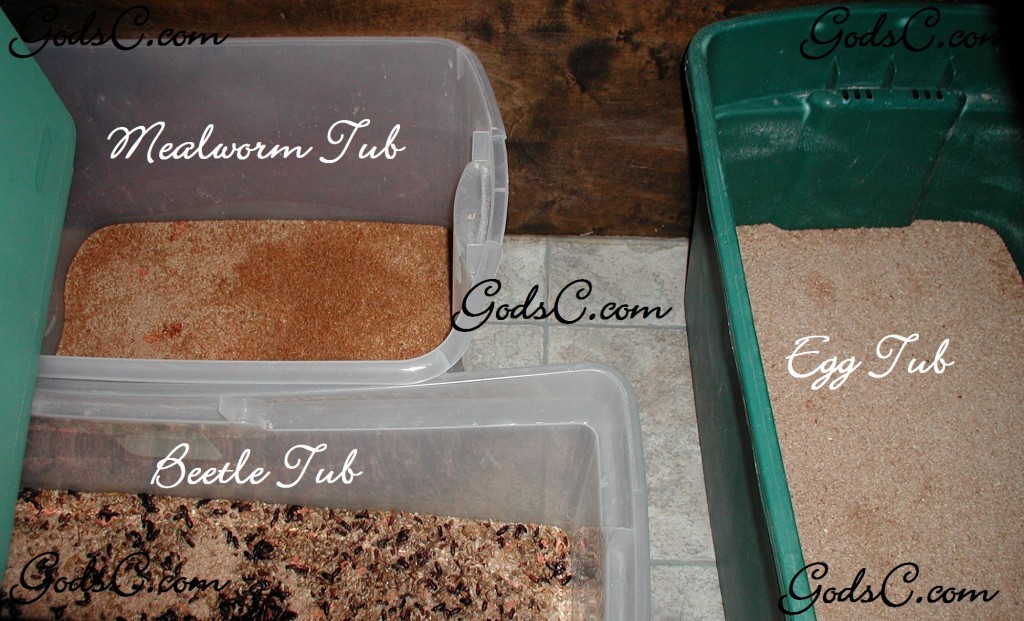 I find that it is best to separate the different sized mealworms and beetles so competition for food is even and the bigger ones don't eat the smaller ones.  To do this I take a tub right before the large worms cocoon and throw out the old bedding. All of the old bedding is now exoskeleton casings from the worms and they will need fresh clean bedding to lay their eggs in for the new worms to grow up in.  When the beetles have been hatched for about 3 weeks they will have layed lots of eggs, I then sift them out from the bran again.  The bedding that is now separated from the beetles contains thousands and thousands of eggs so don't toss it out and remember to feed them even if you can't see the tiny worms yet!  I place the beetles in fresh bedding and repeat the process again in about 3 weeks.  If you do this and keep the beetles old bedding by itself the eggs will hatch and grow up together meaning they will all be around the same size.  This makes them easer to sift small amounts out for selling or feeding.  If you are selling, most people want the large mealworms.  If you do not do this sifting method you would have all sizes of worms and beetles mixed together, and if you have someone wanting to buy 1000 large worms you would have to pick them out by hand!  You can buy colanders at a dollar store or make you own sifters up out of wire screen.  Depending on the size of mealworm you are breeding will determine how big the little holes of slits should be.    You want all the bran to fall through but you want the worms or beetles to stay in so don't use big holes.
Cleaning: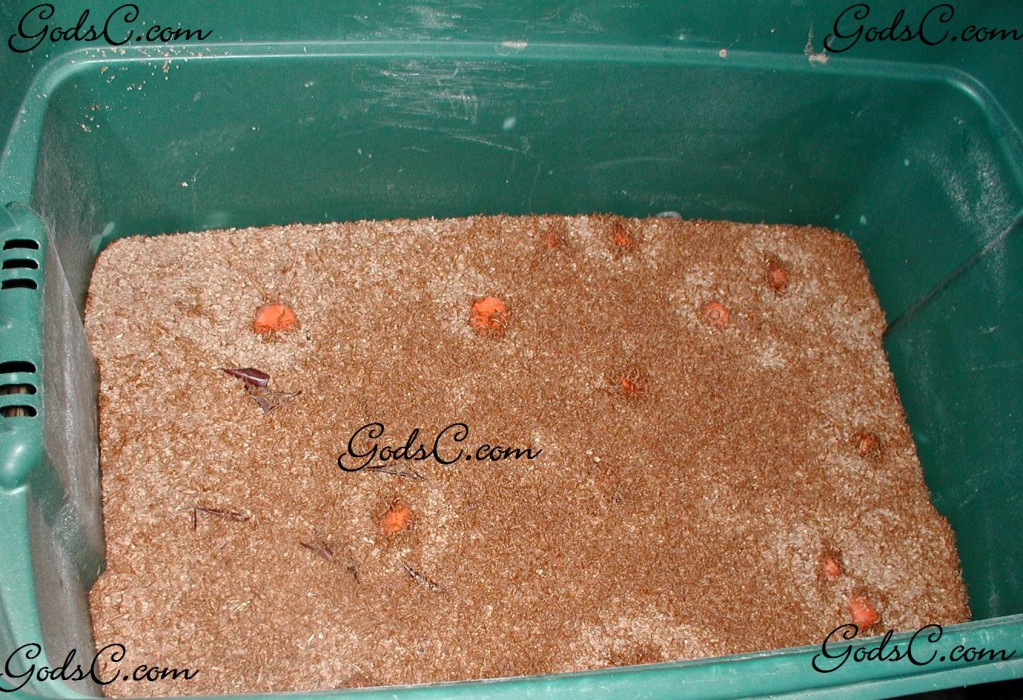 When the worms have grown some they will have a lot of shed resting on top of the bran.  It is a good idea to get all that extra shed out of your worm tubs.  Do this outside and you may want to wear a mask to keep stuff out of you nose and mouth.  Take a hair dryer (use it on the coolest setting) and blow all the shed off the top of the wheat bran.  You can also do this to the beetles, but after you sift them out, and then put them in a container before placing them in new bedding.  When blowing the beetles you want all the dead ones to blow out as well.  Because the dead ones are dried up inside they are lighter, but be carful not to blow too hard or you will blow the living ones out also!
Counting your worms for selling: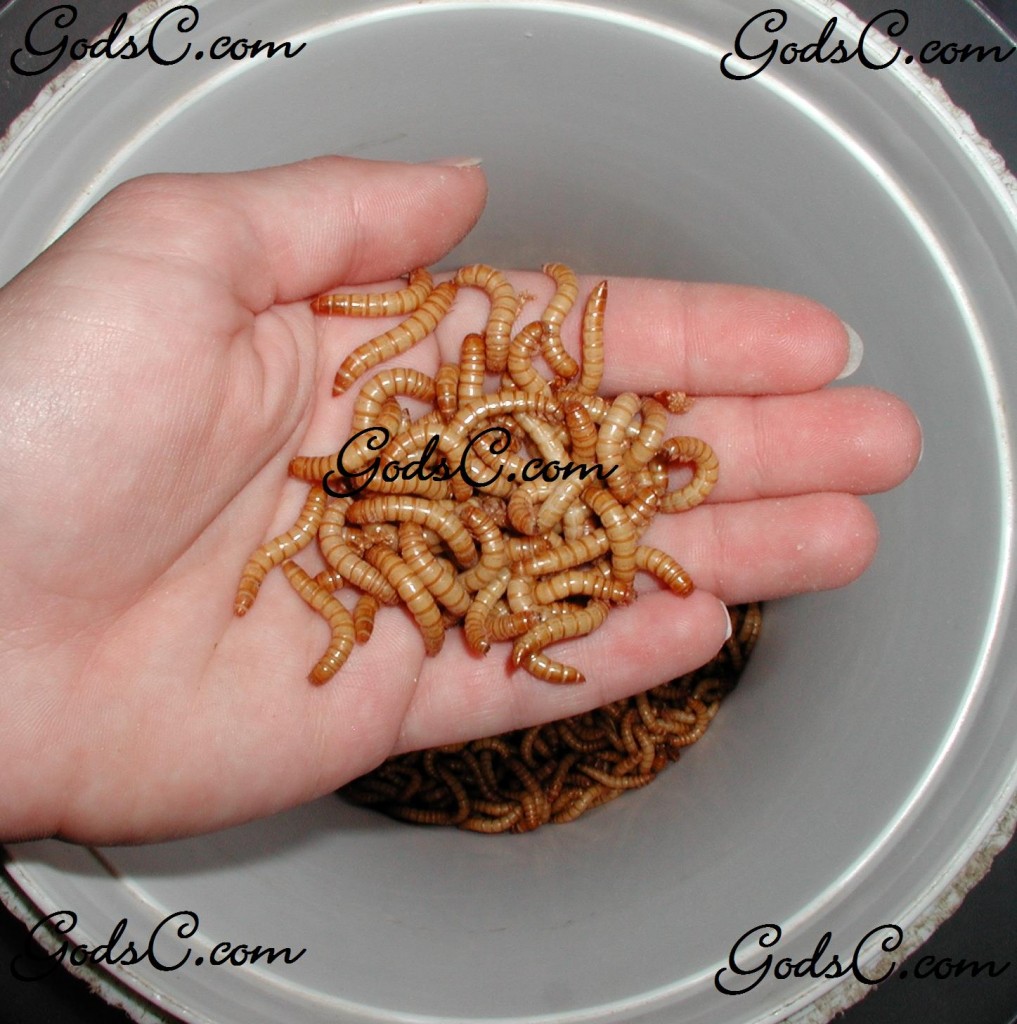 I would often sell my extra mealworms to people in increments of 1000.  So, how did I measure out 1000, did I count them all out every time I had a buyer? No!  I counted out 100 mealworms and weighed them on a letter scale and then multiplied that times 10 and came up with how much 1000 large mealworms weighed.  If you do not have a letter scale you can use a large cup and count out 1000 mealworms and mark it with a line.  You can also measure out other numbers of mealworms on the same cup by labeling the amount above the line.  Sometimes you may have buyers that only want 500 or 100 mealworms.  It is best to have a way to measure out all kinds of amounts.
Buying mealworms to start up your colony:
I recommend that you do not buy mealworms form Pet Smart or PetCo just because they normally cost more at these stores.  You can buy mealworms at most feed stores.  Just call around and see who has the best price.  Most stores sell mealworms in increments of 100-200 but what if you want to start your own colony?  You will need at least 500 worms to get off to a good start. So where do you find mealworms in bulk?  Some feed/pet stores are able to make a special order for you but if you want you can also order them online.  I have used New York Worms, and they are easy to order from because their prices include shipping.  You just need to do a little research to find the cheapest price and if you order online make sure they are 100% guaranteed to arrive alive.  Also if you can find mealworms that are young you will have better success.  I have ordered older mealworms that were ready to cocoon and they did very soon after I got them.  Now why is this a problem?  Often mealworms are kept in the refrigerator and this causes them to stop at the size or stage they are in and their bodies feed off their fat reserves.  If you suddenly take older worms out of the refrigerator they instantly go into the transformation from worm to pupa.  This is bad because all that fat and nutrients is almost all used up and they will not have enough nutrients to get them through the transformation from worm/larva to the adult beetle.  You will have a lot of deformed and malnourished beetles hatch and a good portion of them will die.  Even if the place you order from does not refrigerate their worms, it is still best to buy younger worms so you have time to feed them and bring them up healthy.  Often large companies can not produce as healthy mealworms as an individual because they simply have a lot of worms.  The individual is able to give more care and time to a small amount of worms.  I hope that all my info has helped you and if you have any questions just fill out the box below.