About our Dogs
Occasionally we have adult dogs or older puppies available. Sometimes we receive our dogs back from owners that are no longer able to care for their Bichon for various reasons (moving, job change, or no longer have time to care for a dog). Also we sometimes have rescued Bichons available or retired show dogs. We are committed to our dogs and always take them back, whenever an owner is no longer able to care for them. We evaluate them and make sure they are up to date on their vaccines. We then foster the dog until a new great home can be found!
How to adopt one of our Dogs
If you are interested in one of our dogs you will need to send us your application by email. Here is the info we need
After we have reviewed your info we may call you and ask a few other questions. Please understand that we just want the best homes for our dogs and that is why we may call you. We care very much about our dogs and we will be selecting the owners for our dogs, that we think will give the best homes for them. Emailing us dose not necessarily mean you will be getting one of our dogs but you will defiantly be considered as a possible owner!
Available Dogs
If you see any dogs available submit your application now (see info above). At this time we do not have any Bichon's available on this page.
All dogs below have been adopted
---
Belle the Bichon Frise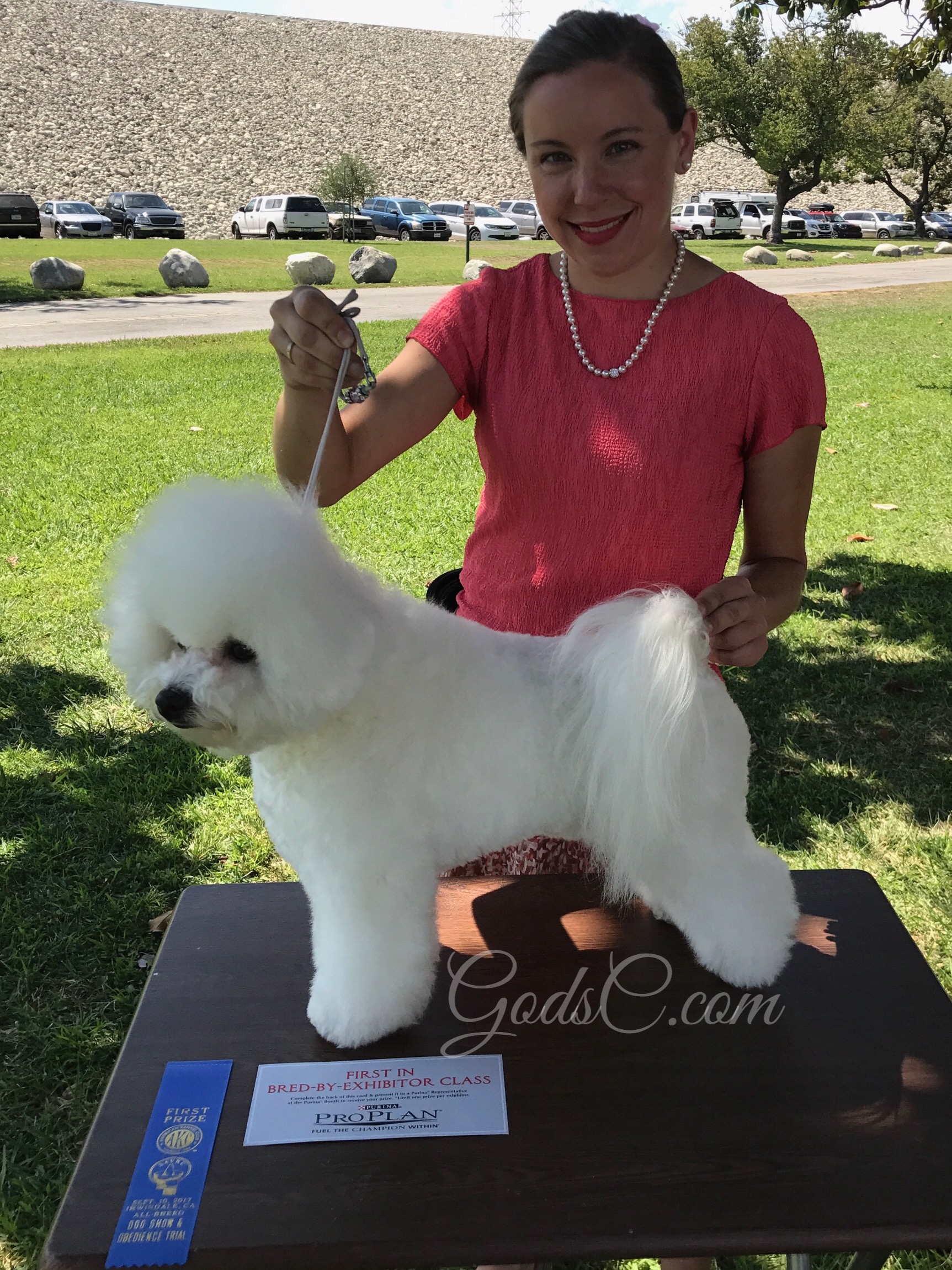 Status: adopted as of 11-21-17. Congrats to Jacqui her new owner and also Bella who is Belle's sister. So happy the get to stay together.
Last Updated: November 2017
Sex: Female
Name: God's Creatures Sont Belles
AKC Registration #: NP43107703
Birth Date: July 20, 2016
Health Testing Results: patellas tested normal, see link; http://ofa.org/display.html?appnum=1871689#animal
Price to Adopt: 3,000.00
About: This is an amazing little girl who becomes devoted and loyal to her humans. She will become attached to anyone that shows her love. She aims to please and will do trick to please you. She is an American Kennel Club Canine Good Citizen title holder and this includes all basic obedience training. She is potty trained and knows how to use the doggie door. She has been around all kids or animals; pig, horse, small dogs, big dogs, cats, and chickens. She is not so great with chickens because they are fun to chase and cats sometimes she will chase too but she loves them and wants to give them kisses and play. She is great with all other animals. She travels well in a crate or on your lap. She is crate trained at night or will sleep in your bed. Truly a great little doggie with a lovely bright white Bichon coat. She is a show dog with great conformation but we have chosen to retire her and find the perfect pet home. She comes from many champions in her pedigree on both her mother's side and also her fathers side.
Photo of Belle after getting certified with her Canine Good Citizen Title on 9-9-17
---
Hadassah the Bichon Frise
Status: adopted as of 11-16-17, congrats to her new family!
Last Updated: November 2017
Sex: Female
Name: Fairspride God'sCreatures Queen Hadassah
AKC Registration #: NP35201902
Birth Date: August 20, 2013
Health Testing Results: http://www.offa.org/display.html?appnum=1685200#animal
Price to Adopt: 3,000.00
About: Young adult family champion show dog with Canine Good Citizen title holder and health testing. She LOVES everyone and gets along with dogs of all sizes, cats, horses, goats, and pigs. She's potty trained to use a doggie door. She has her Canine Good Citizenship (CGC)/basic obedience training, she is an American Kennel Club Champion, she has Orthopedic Foundation For Animals (OFA) health testing for heart, hips, elbows, eyes. You can view her health testing rustles >>here<<. She loves to play with other dogs and LOVES to be with people. She is located in Apple Valley California and we would love to see her go to a local home. She's up to date on Rabies, DA2PP, and Bordetella. She's also spayed already. Available to an approved home who will love her. This is an amazing little white cotton ball with a fantastic coat and tempermet!!! This is a real Bichon Frise show dog and the most amazing pet! 760-731-6472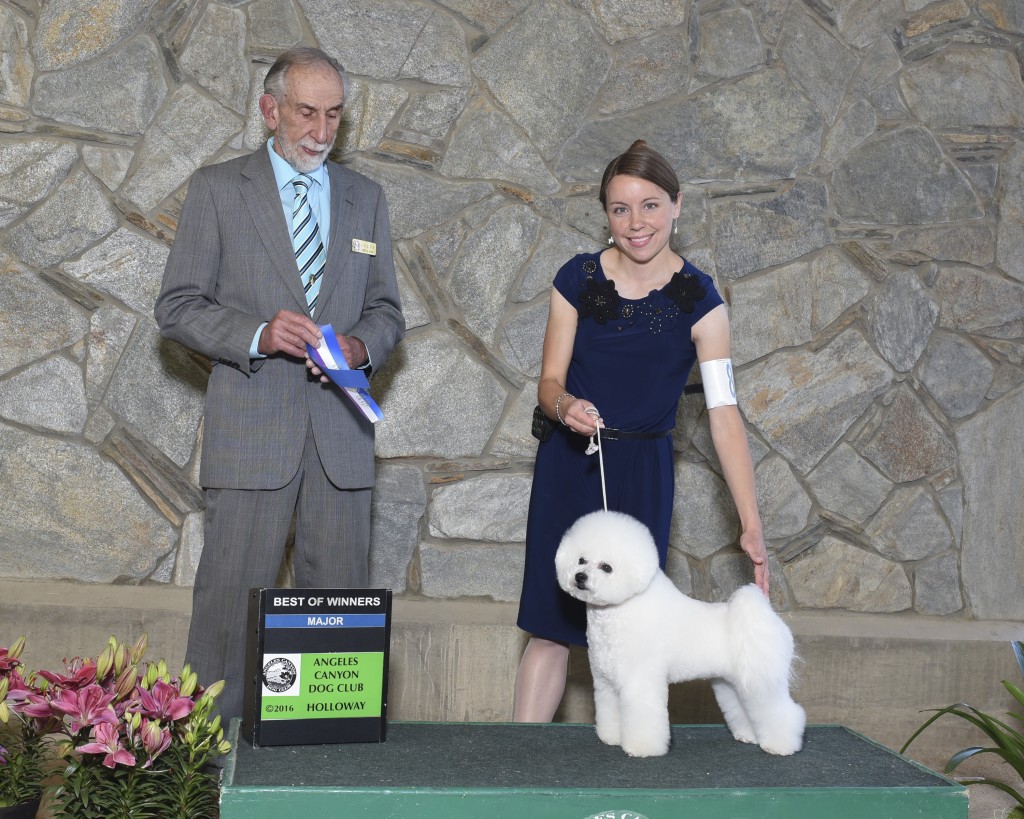 ---
There are no other dogs available on this page but check the "Nursery" page.
Adopted – King Xerxes The Bichon Frise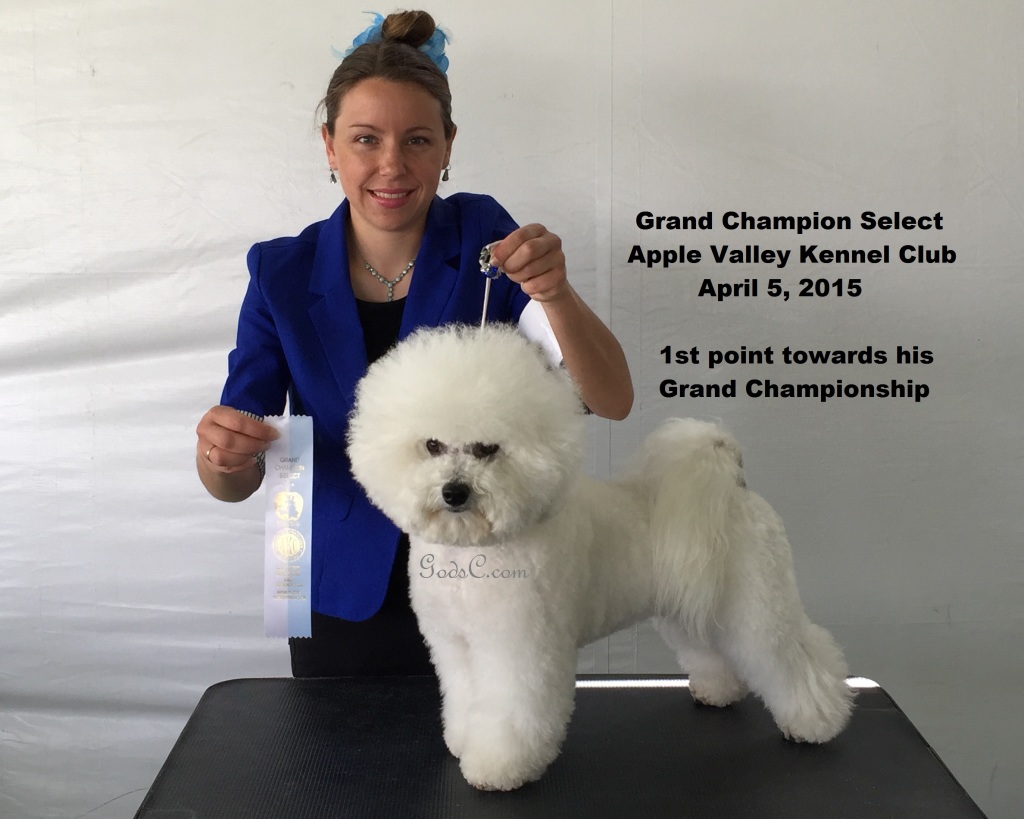 Status: Adopted
Last Updated: 5-1-16
Sex: Male
Name: JOLINE'S FAIRSPRIDE GOD'S CREATURES KING XERXES
Birth Date: August 21, 2013
Age: 2 years
Weight: about 12-15 lb
AKC Number: NP35427502
Dogs Sire: CH JOLINE'S SLICK AS ICE NP08447304
Dogs Dam: FAIRSPRIDE CHANTILLY LACE NP19742201e
Measurements: At the withers 11 & 3/8 inches tall on 10-16-14
Health testing: O.F.A. Eyes tested free of observable inherited eye diseases on 12/6/14. Age at evaluation 15 months. Results, based upon the exam dated 12/6/14, this dog has been found to be free of observable inherited eye diseases and has been issued and Eye Certification Registry Number which is valid for one year from the time of the exam. Also his hips and elbows have been X-rayed and certified by the Orthopedic Foundation for Animals and found to be healthy. Also hid patellas have been tested. This is a healthy dog and all paperwork is in hand for viewing as well as online at —> this link <—. Xerxes will be neutered before going to his new family. Up to date on vaccines.
King Xerxes is now in a stylish pet trim!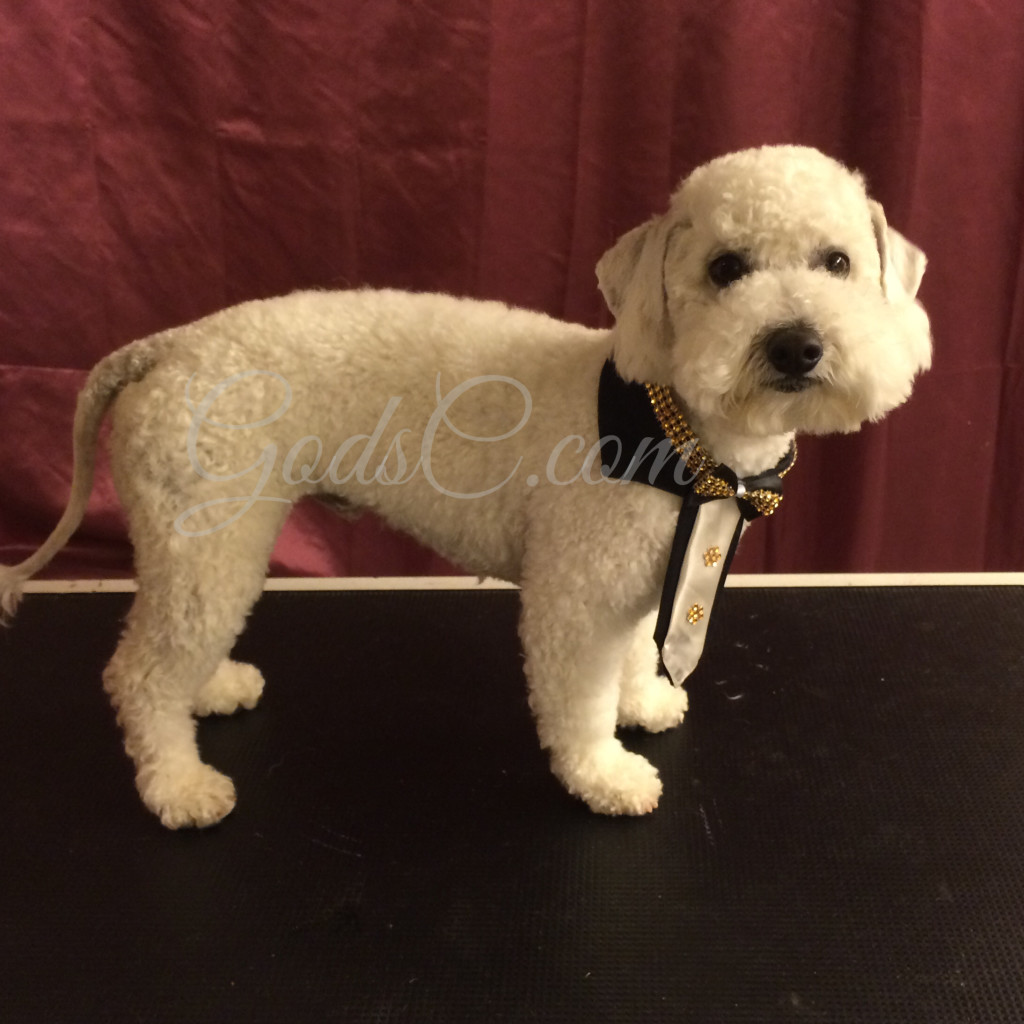 Points won in the show ring: As of 4/14/15 Xerxes is now a Champion and now has 1 point towards his Grand Championship. He has won lots of ribbons including Reserve Winner, Winners, and Best of Winners several times. How a dog becomes a Champion: The American Kennel Club requires a dog to obtain a total of 15 points with two major wins (a major win is worth three points or higher) to become a champion. The majors must be won under different judges and at least one other judge must award some of the remaining points – so you need to win under at least three different judges. KING XERXES has proven under several judges to be more than just a purebred Bichon Frise. He is a Champion show dog meaning he is a prized Bichon Frise and not your average Bichon Frise, he is a quality dog!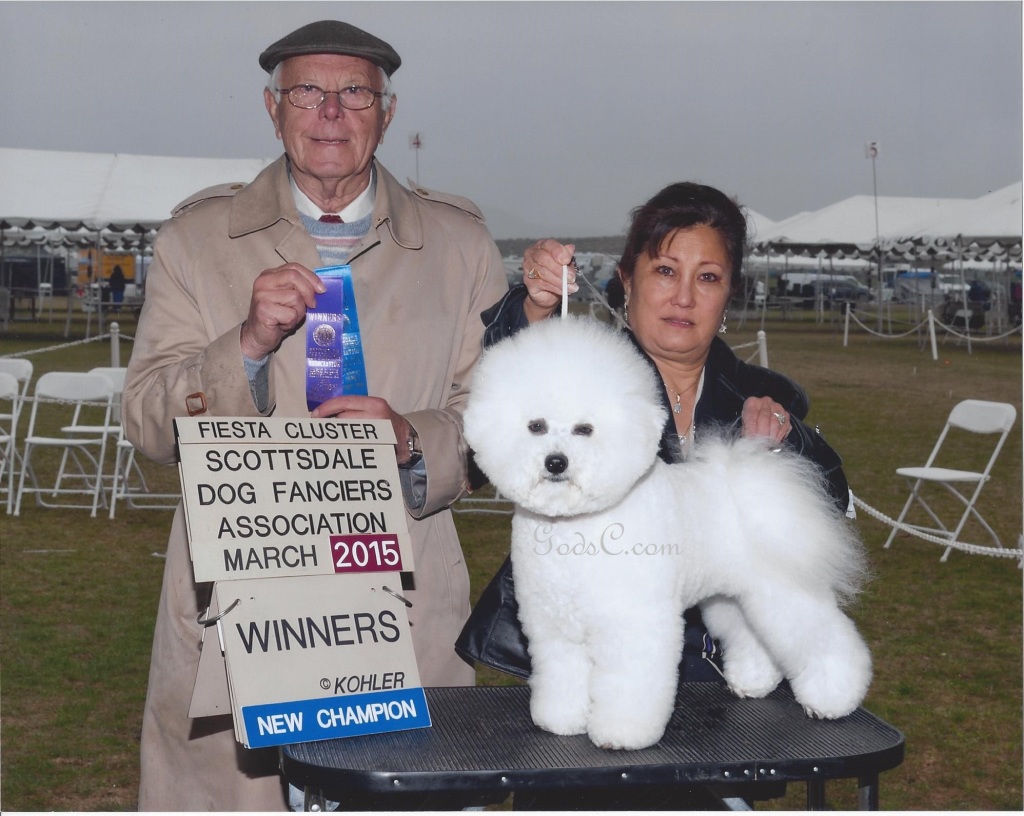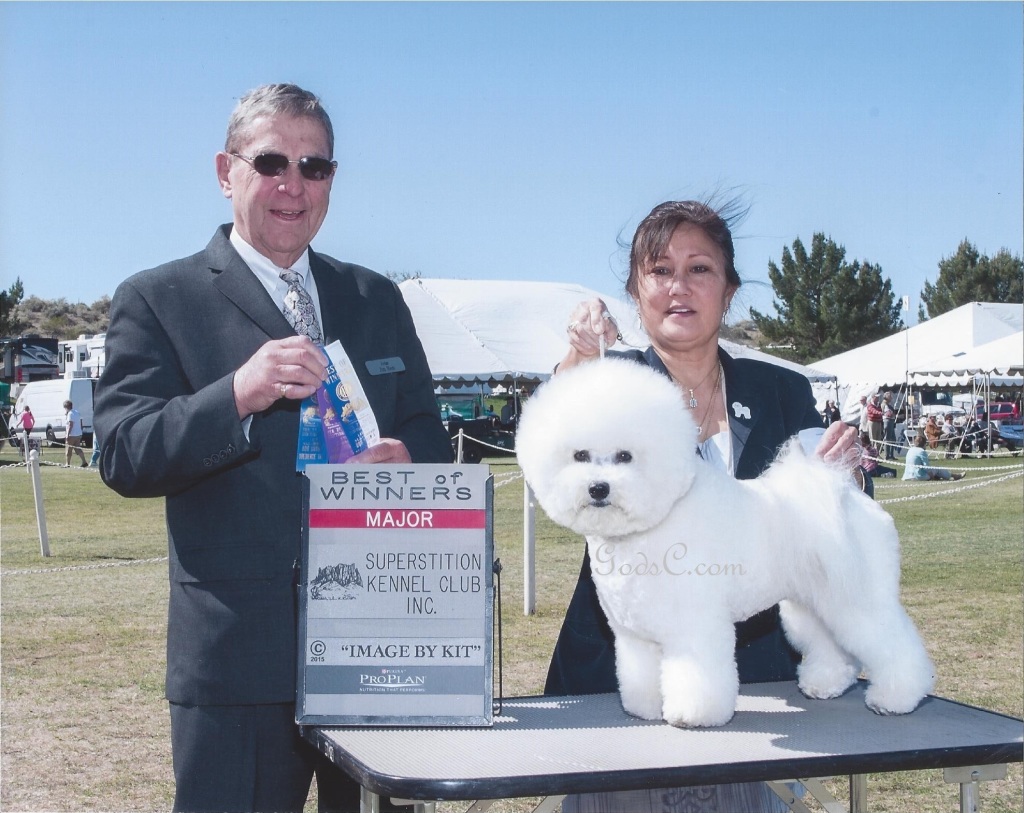 About: King Xerxes is a retired Champion show dog and the perfect family pet that exceeds all other pets because he has proven to meet up to his breed standard unlike the average purebred Bichons Frises. If you are looking for a "Real Bichon Frise" here he is!!! He LOVES people, even children. He needs a family that has other dogs or a dog to play with. He's great with dogs of all sizes, ages, and genders; he loves any friendly dog. He is also great with horses and some cats. He lives on a farm with chickens too but can't be in the same pen with them but does find on the outside of the coop. He loves to snuggle in bed with someone too. He is also crate trained and will sleep 9-12 hours at a time. He will follow you all around the house and loves car rides. He plays toys and knows how to use the doggie door and drink out of water bottles. He does not dig is not much of a barker. He's a great dog that is one of a kind and it's not every day you have the opportunity to own a purebred champion with health testing completed.