On this page you will see records of events of the Bichons in our lives; what accomplishment we have made together, news of what is happening, and memories from the past.
---
Date: 4-23-16
A major win for our girl Queen Hadassah!
Photo of our groom on our Bichon Frise. This is Queen Hadassah taking "Best of Winners" with a 4 point major at the AKC Angels Canyon Dog Club show on April 23, 2016!!! A very BIG day for us.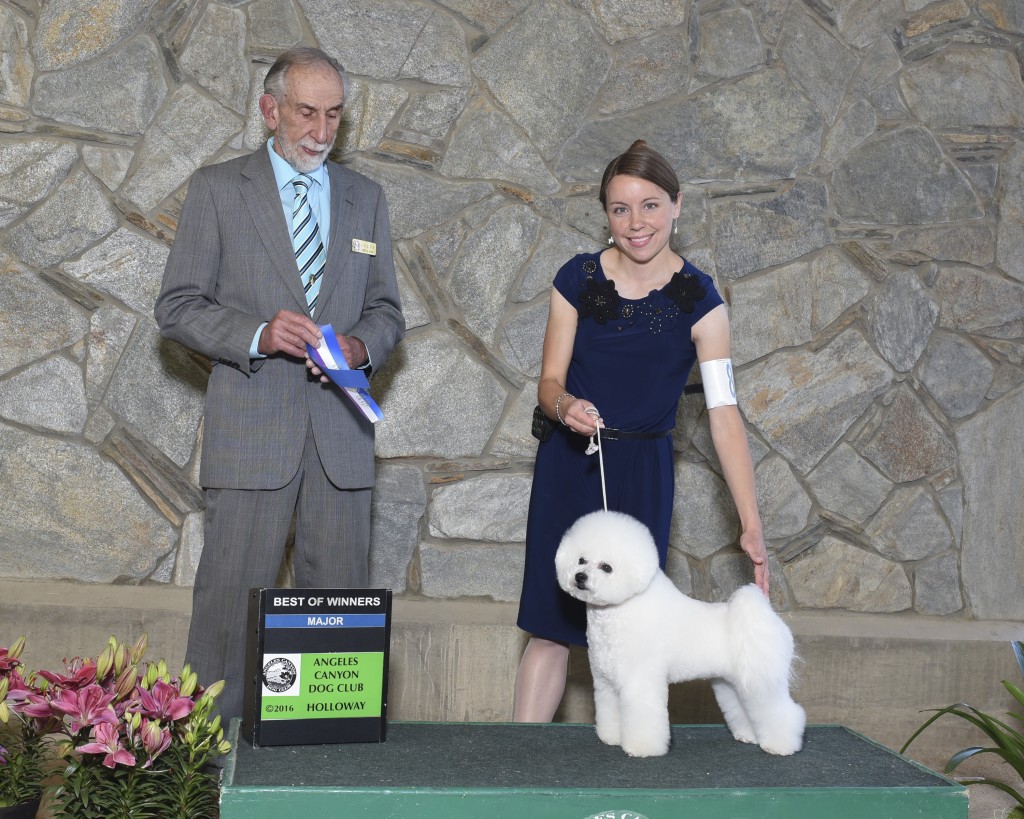 ---
Date: April 30, 2016
A new friend for Xerxes.
Xerxes was neutered and placed in an amazing home with another Bichon Frise.  Xerxes' new fur brother's name is Kip (Kip is on the left & Xerxes on the right)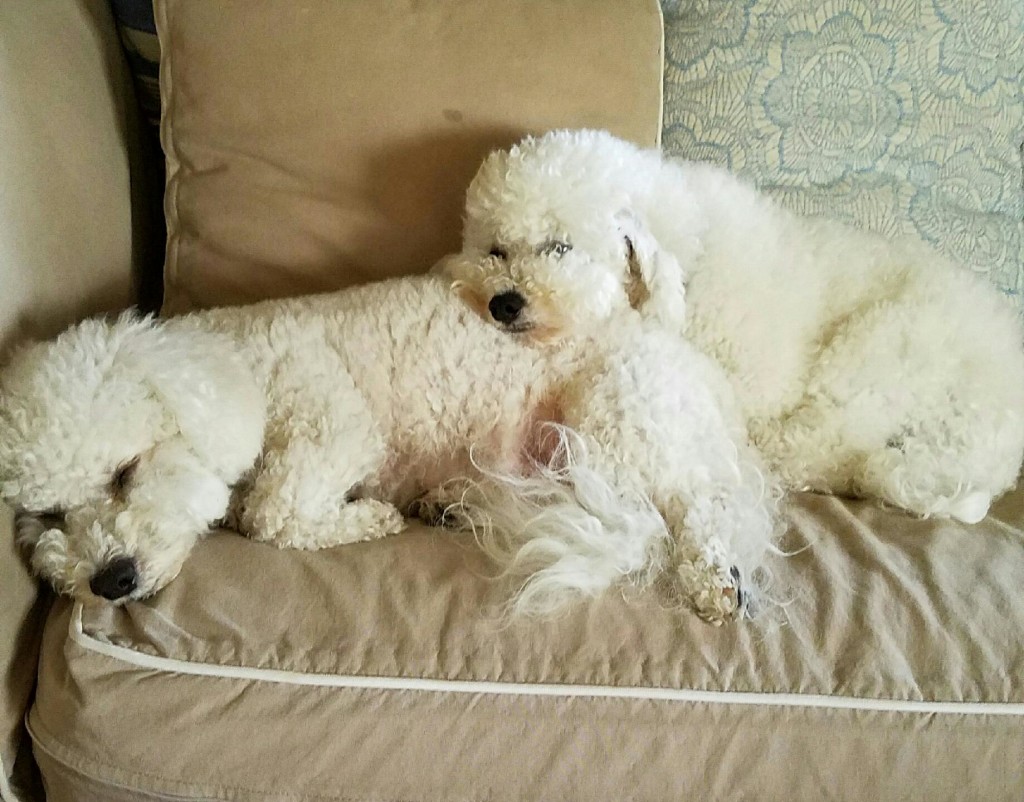 ---
Date: end of 2015
Our first retired show dog.
Sooner or later it's time for a dog to retire from the show ring.  This also means it's time to try out new haircuts

Behold, the Bedlington/Asian Flare groom lol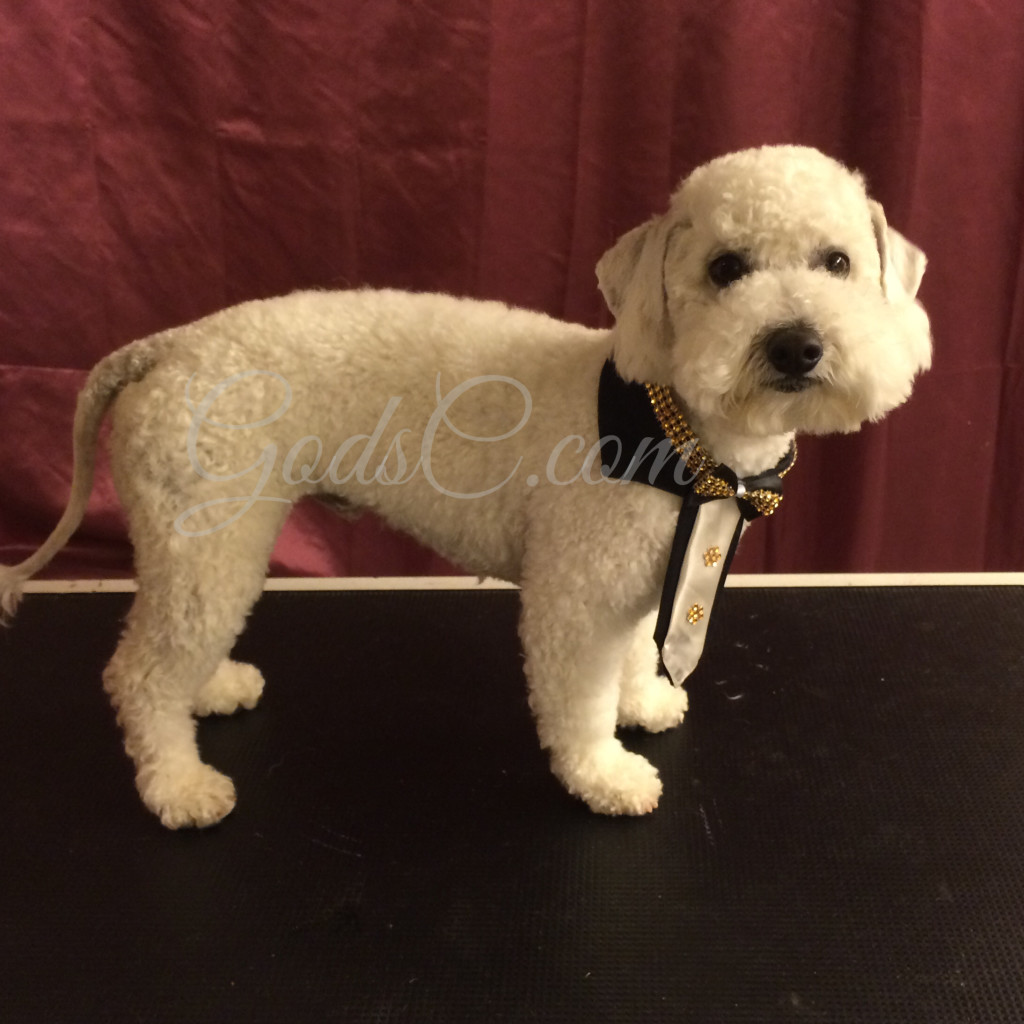 ---
Date: 4/5/15
First Grand Champion Point!
As of April 4th our Bichon Frise JOLINE'S FAIRSPRIDE GOD'S CREATURES KING XERXES wins his first point towards his Grand Championship!!!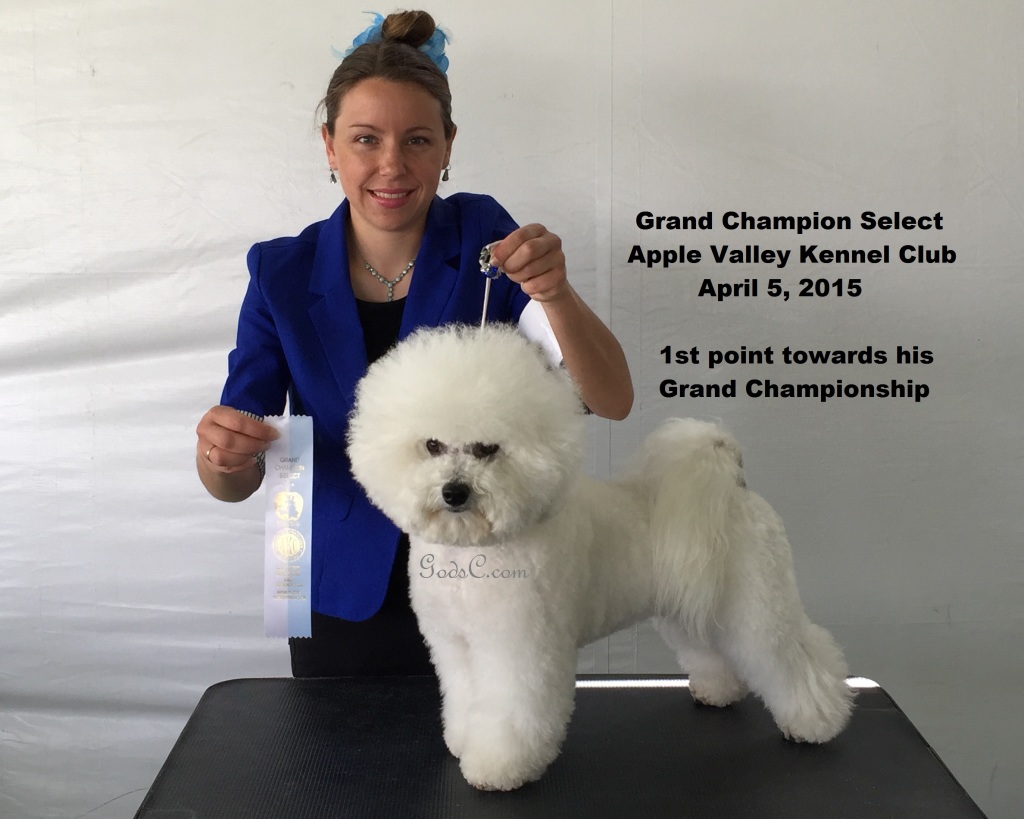 ---
Date: 3/2/15
Our first AKC Champion Bichon Frise!
As of March 2nd our Bichon Frise JOLINE'S FAIRSPRIDE GOD'S CREATURES KING XERXES became a Champion at the Scottsdale Dog Fanciers Assoc. show!!!!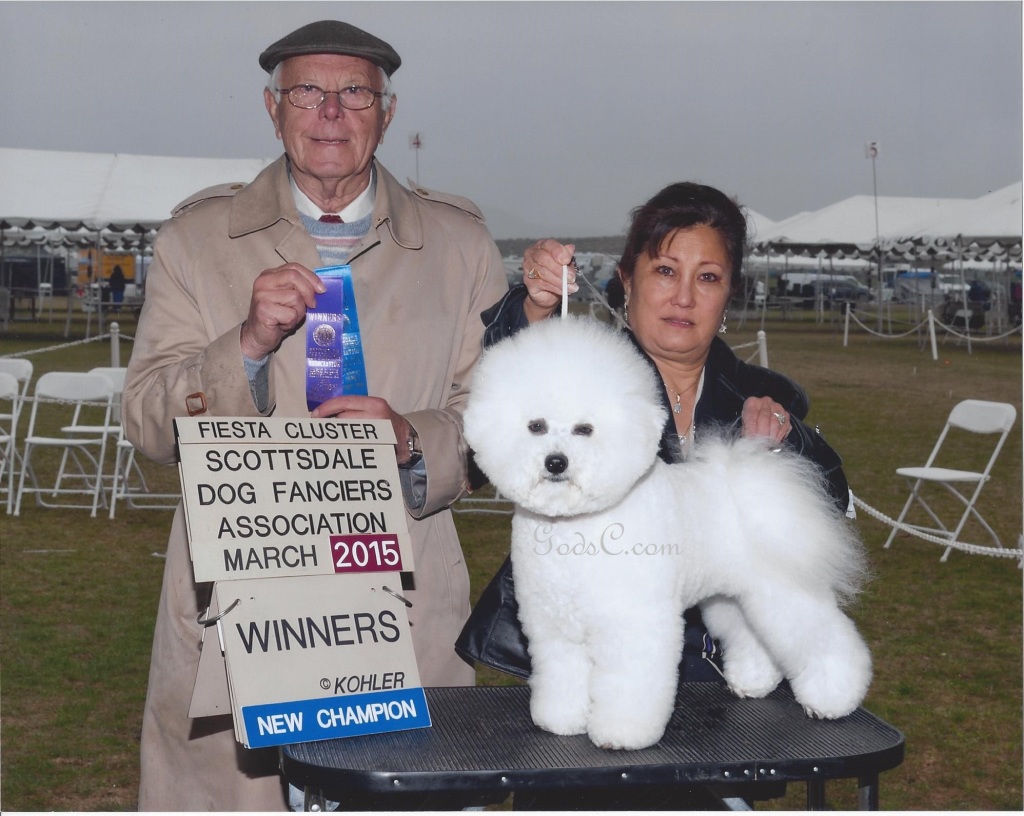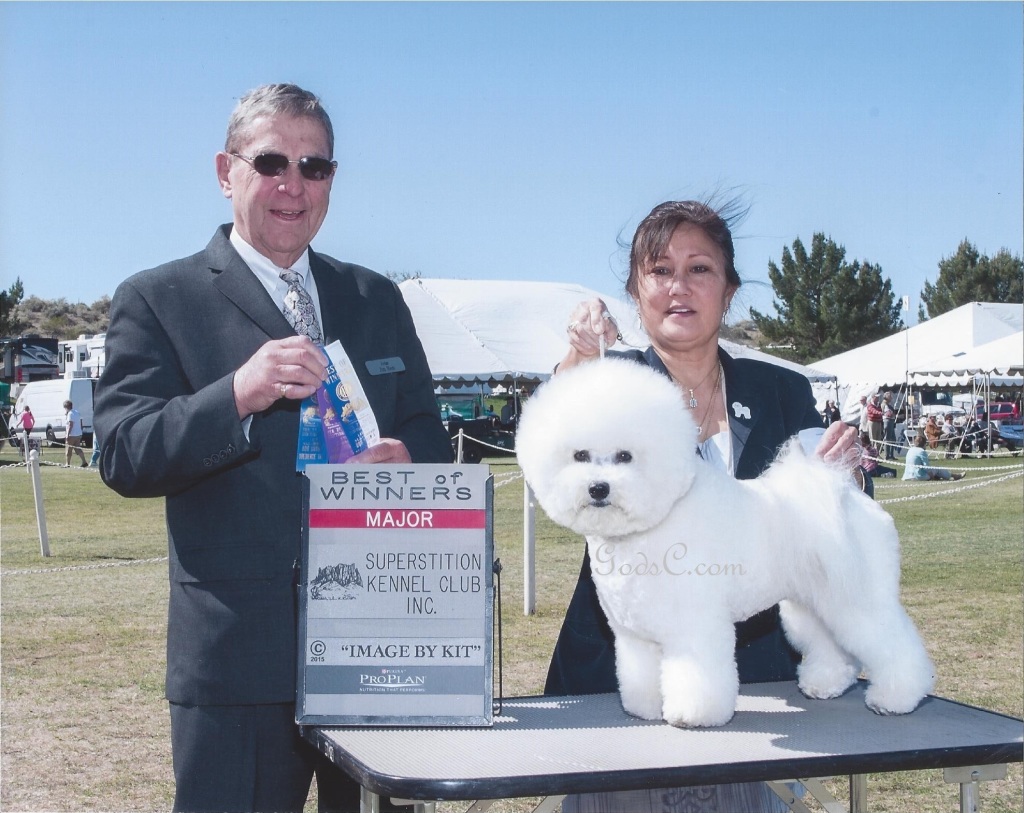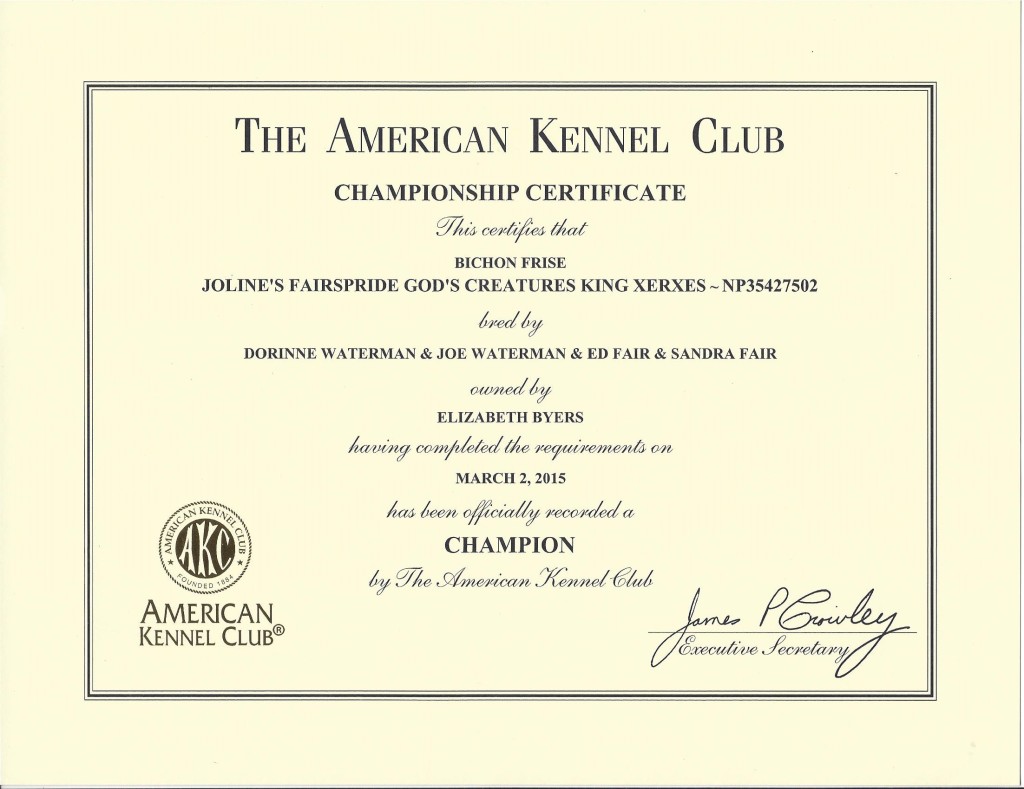 How a dog becomes a Champion: The American Kennel Club requires a dog to obtain a total of 15 points with two major wins (a major win is worth three points or higher) to become a champion. The majors must be won under different judges and at least one other judge must award some of the remaining points – so you need to win under at least three different judges.
---
Date: 2/20/15
Queen Hadassah & King Xerxes each take a big WIN
at the Bichon Frise specialty show in California on 2-20-15!  Hadassah was handled and owned by us, Xerxes was handled by the lovely Dorinne Waterman and owned by us.  This was a great day and a huge accomplishment with lost of steep competition.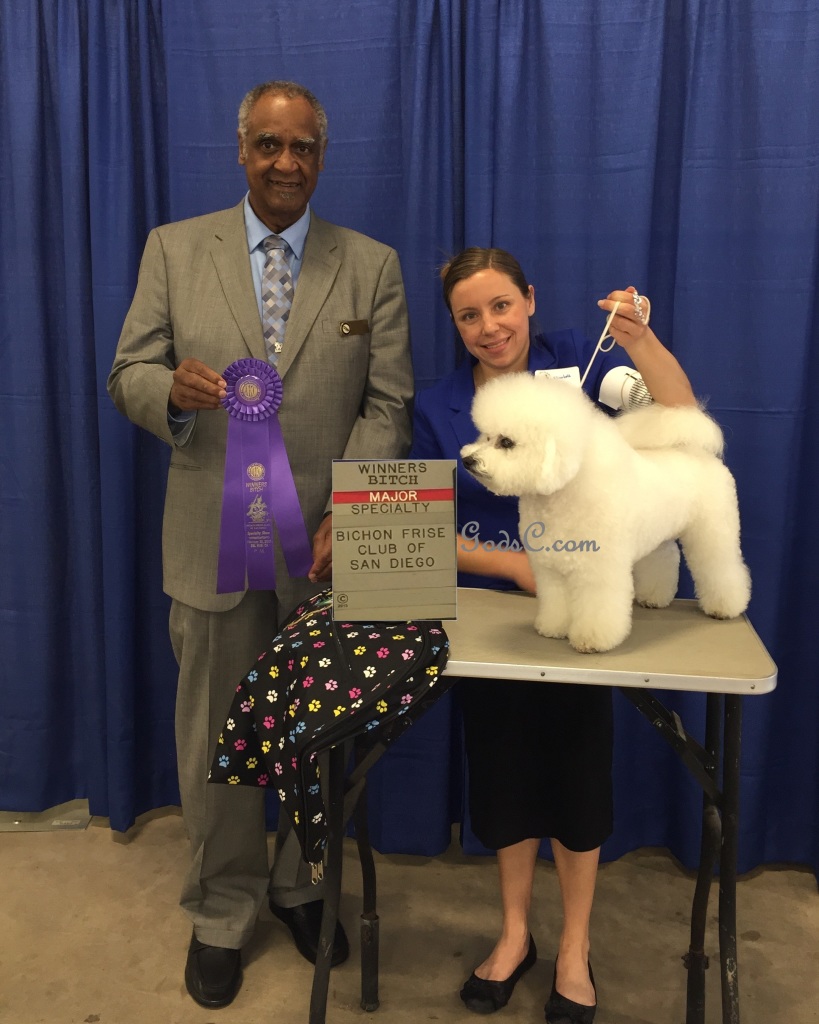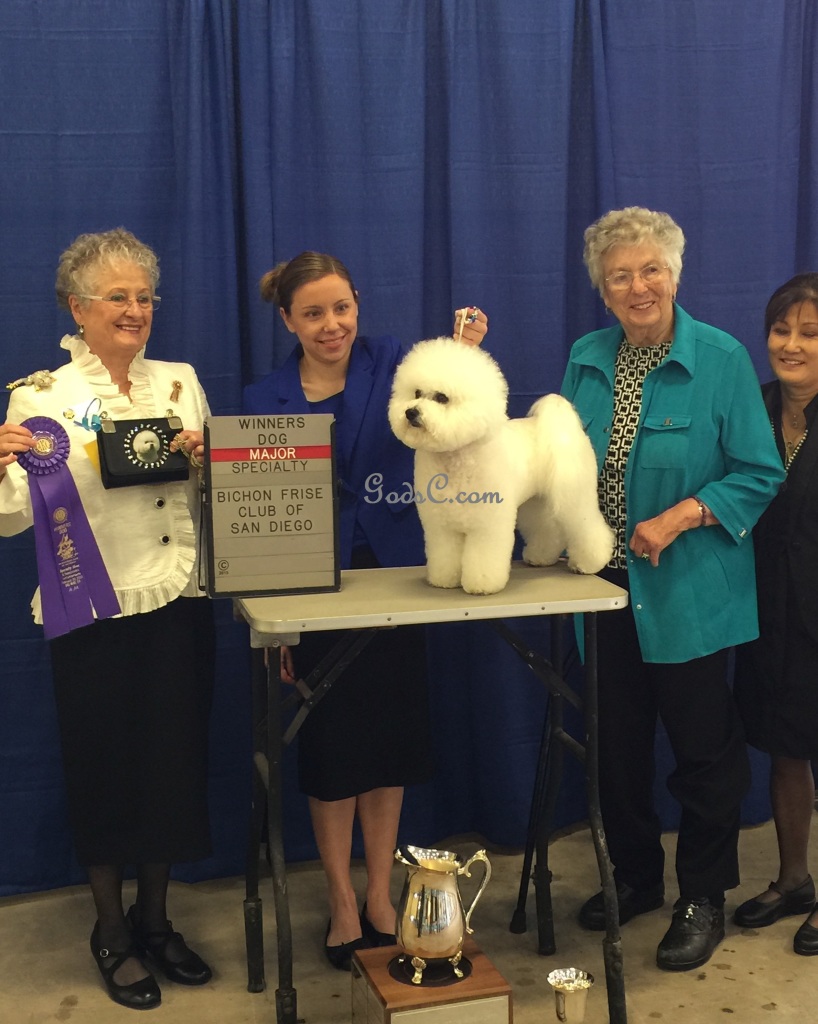 ---
Date: November 2014
One of our first few shows showing 2 dogs.
It's a LOT of work to get just one dog ready for a show but here we are getting 2 dogs ready at the same time for the same show.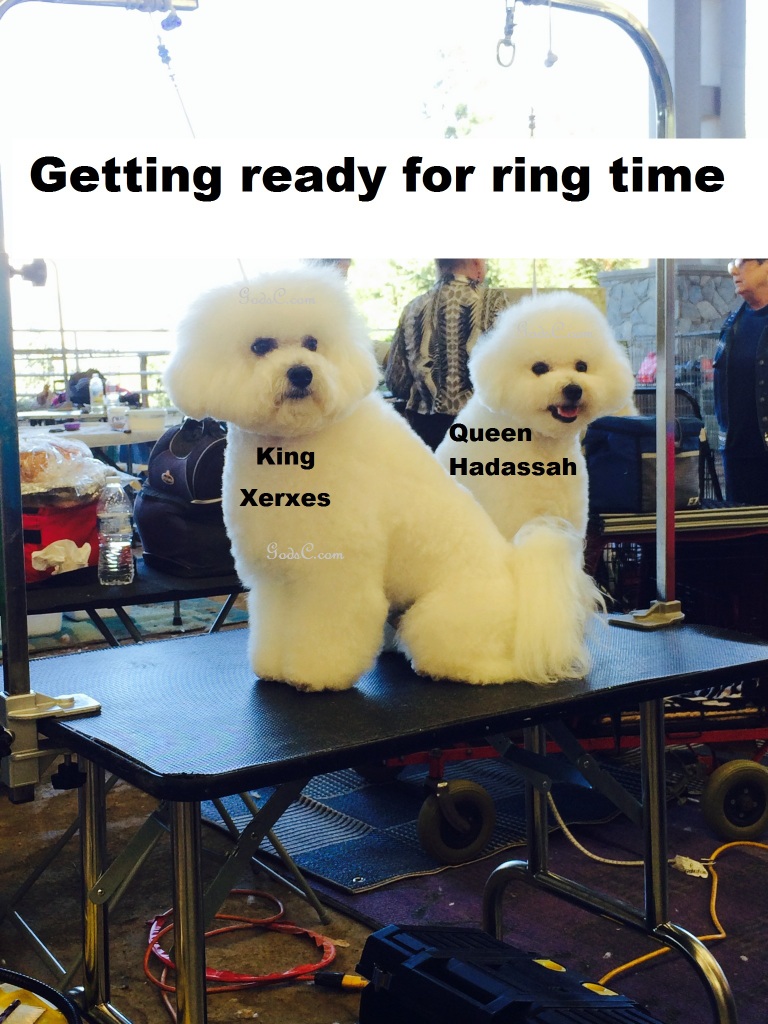 ---
Date: 2-22-2014
Our very first dog show
We competed with our male dog King Xerxes, at our very first AKC conformation show!  It was very exciting, nerve-racking, and fun all at the same time!  From that moment on we fell in LOVE with showing dogs.
---
Date: November 2013
Our very first show dogs!
In November of 2013 God's Creatures would like to announce the arrival of their new AKC Bichons, King Xerxes and Queen Hadassah. Welcome to the family puppies!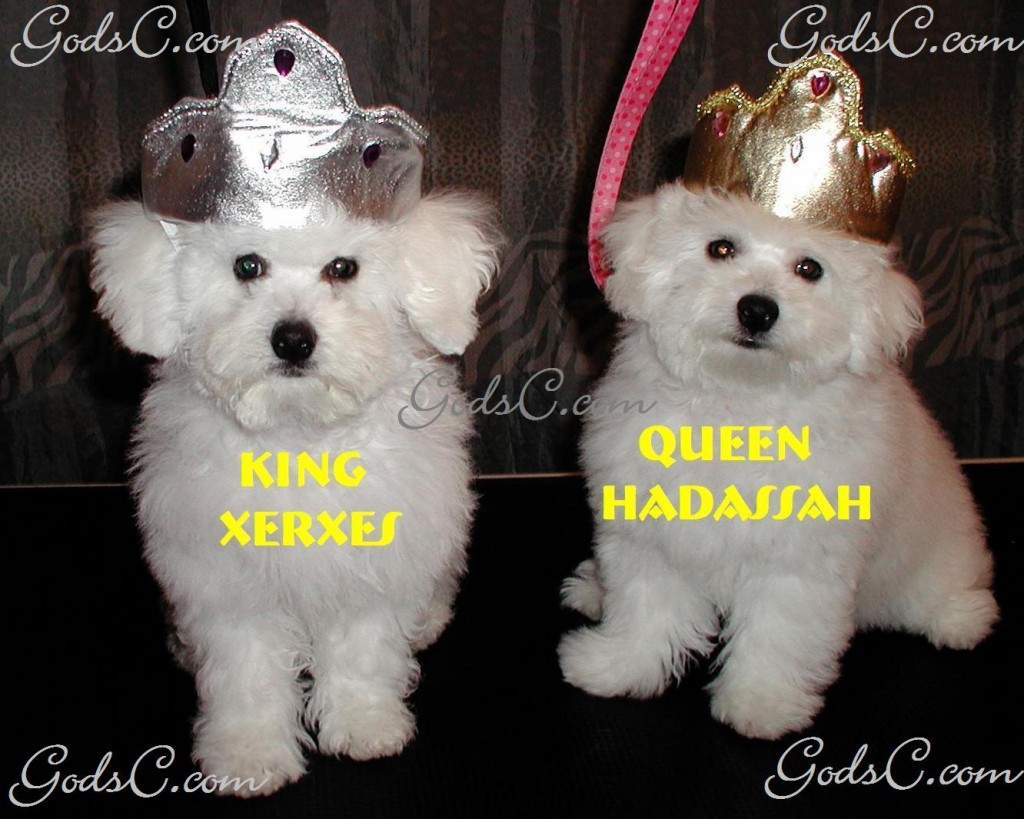 ---
Date: 2-24-13
Our first grooming competition.
Our very first grooming competition was done with our rescued Bichon Frise Cody.  This was not your typical grooming competition, it was a creative styling contest.  Cody loved it and his personality went from quiet to "Look at me world, come pet me"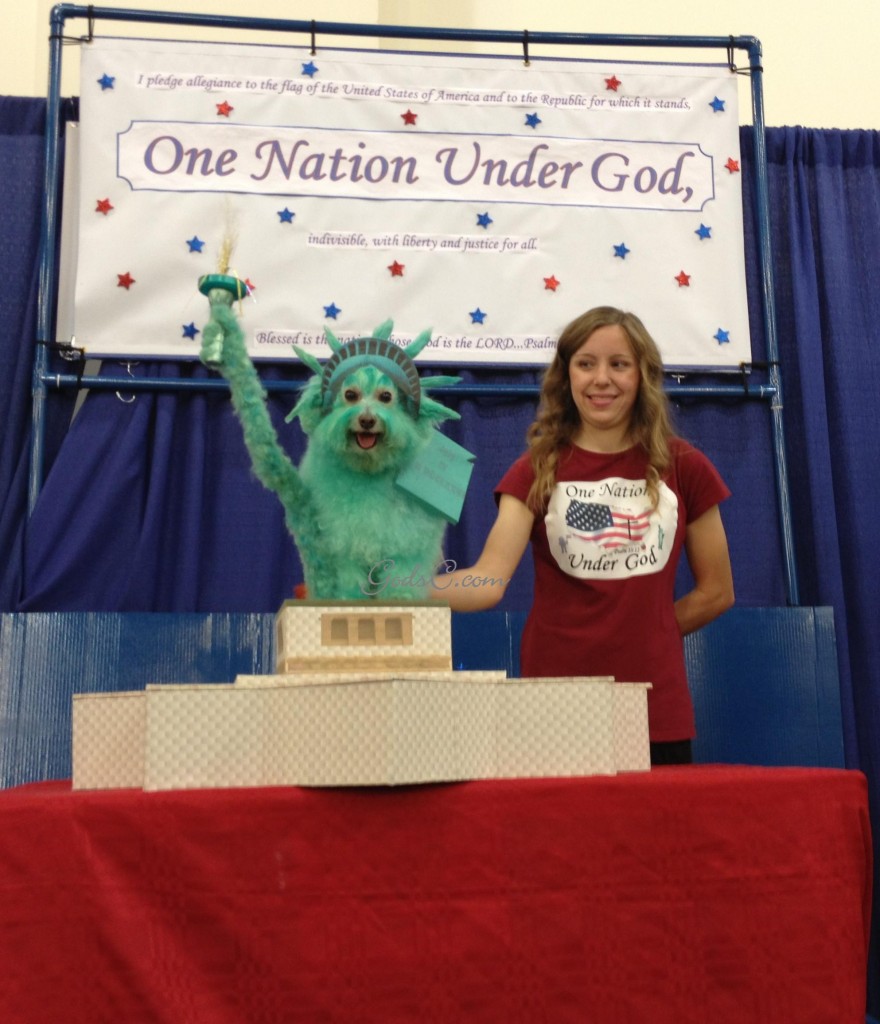 ---
Date: 2011
Launch of our grooming salon
We got a business licence in 2011.  This dog here is Cody.  He was our first Bichon and he is the reason we opened our grooming salon.  We learned to groom him and others took note of it and also wanted us to groom their dogs.  We started grooming him in 2006 and our skills and knowledge has grown by leaps and bounds over the years.

---
Date: 2006
Our first encounter with a Bichon Frise
We were first introduced to the Bichon Firse breed around 10pm one late summer night. This dog was running down our street.  We tried to stop him as we did not want a car to hit him.  He paused, then started to run again.  We frantically called out to him one last time and the dog paused again.  We continued to call to him in the sweetest towns we could make.  Next he surprised us and he ran right towards us!  We checked his collar for a tag for a phone number but he did not have one.  We did not know what to do and now he would not leave us.  He even dug into our back yard.  We took him in for the next several days. We tried to find his owners and he was scanned for a chip but did not have one.  We went door to door looking for his owners and we even had a lady pretend to be his owner and she stole him from us!  She said it was her dog and when we asked her the last time she saw him she said "We saw him this morning", the only trouble was we had found him a week earlier.  Before we knew what was happening this lady took the leash off the dog and pulled him inside her house and shut the door in our face.  Shocked at what had just happened we went home to regroup.  The next day we went back to this woman's house and asked why she took the dog.  We told the woman that this could not be her dog as we had found him a week earlier and she had said her dog was missing as of yesterday morning, her response was "Oh I thought you were giving him away yesterday".  Needless to say this woman was lying and was now changing her story when we confronted her about it.  The good thing was this woman did give the dog back to us!  We never did find this dog's real owner and this boy has found a home with us.  His name is Cody!