God's Creatures is located in, see a map of here >> Apple Valley, CA.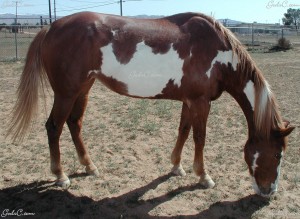 It is a fact that when you own creatures you have manure. What is to be done with all that manure? Fortunately God has designed manure from horses, goats, and chickens to be beneficial to plants so manure is not a complete waste!
We offer aged horse manure, goat manure, and chicken manure. Some manure may be mixed with oat/wheat/barley 3-way hay and it's perfectly good to use for your plants (grass hays are bad but 3-way hay is fine). A minimum donation of $5 is required per load and you can have as much as you want. All money goes towards our animals feed, care, and supplies

We have used the manure in our own gardens and it works great! Also we have had people use it for their worm bins with wonderful results!
How to pick up: We do NOT make deliveries but you are welcome to bring a tuck, trailer, or even a van/car with bags. Don't forget to bring your shovel. Pick up is by appoint only during our hours of opperation (please schedule in advance). After your appointment is scheduled, text us the night before or day of your appointment for our address. If you do not confirm your appointment we will asume you chances on us (we don't have time to wait around for flakes). For your safty and the safty of our animals we do not offer tours during pick up.
Contact us: We often have several truck loads available just call 760-713-647two or email us ***Contact@GodsC.com*** You must pick up and load, we do NOT deliver. Easy access for trucks and trailers.
God's Creatures is located in, see a map of here >> Apple Valley, CA.