Creative Grooming for Dogs!
We are proud to be members of the National Association of Professional Creative Groomers (NAPCG)!  Your pets safety is very important to us!  We can add color, bling, and designs to your dog's coat in a safe fun way!  Be sure to visit the NAPCG's page www.facebook.com/NAPCG
---
It all starts here!
Never attempt to add color to your dog's coat yourself; there are a lot of unsafe products out there and false information!  Always leave this to a professional groomer that is a member and in good standings with the National Association of Professional Creative Groomers (NAPCG).  There are other groomers out there that don't know what is safe for a dogs skin and use very unsafe products!  There are also products specifically made to color a dogs coat that are not even safe to use on pets.  There's even a bleaching cream for dog coats and that is NOT safe at all (to bleach or lift a dog's coat color, means a harsh chemical reacting product must be used).  How can it be that some pet coloring products ate not safe?  It's because the manufacturers are not required to label ingredients, their "pet-safe claim" is made by the manufacturer only.  Need help locating a NAPCG groomer in your area?  Contact us!
Offering:
Temporary Coloring

Semi Permanent Hair Dyeing for Dogs

Mohawks

Airbrushed Designs
Glitter Designs

Designs Sculpted into your dogs coat

Rhinestones/Bling!

Feather Extensions
Nail Painting
Unique hair styles


---
About Our Products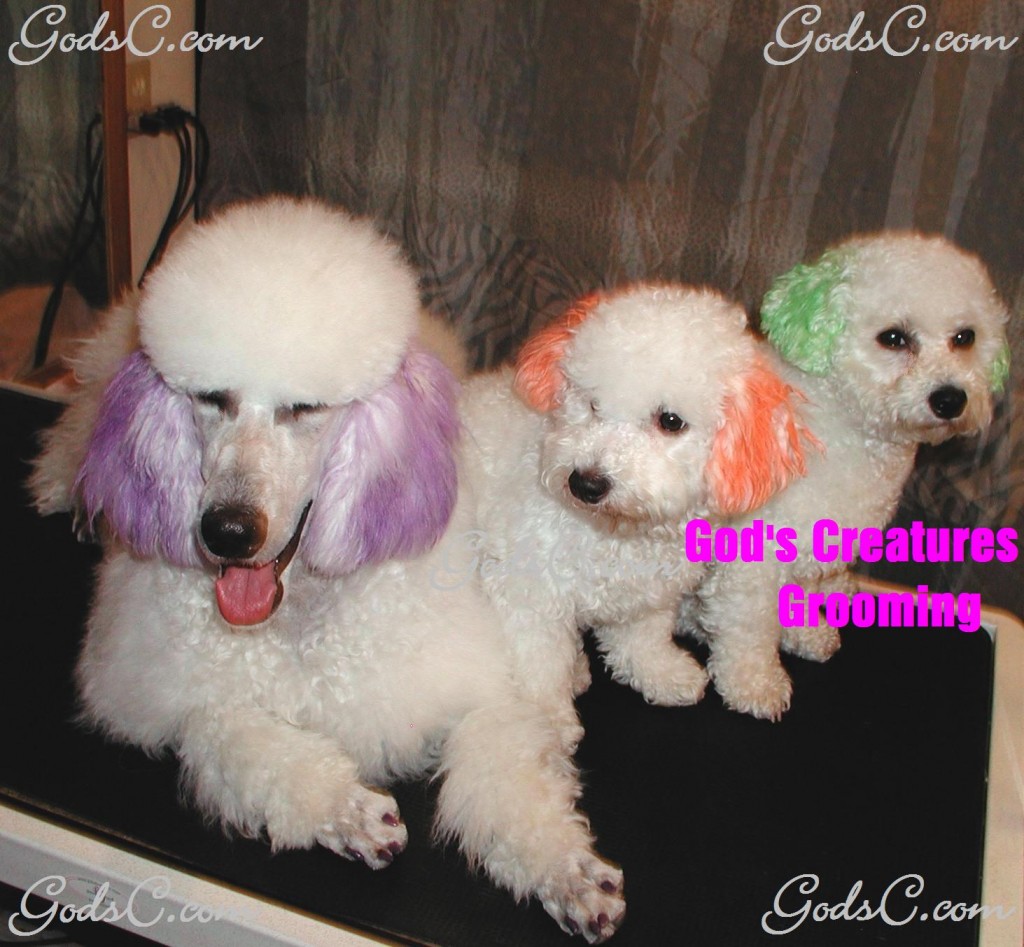 The products we use are all doggy safe and are approved by the National Association of Professional Creative Groomers (it is all perfectly safe).  We NEVER lift the dog's natural coat color because bleaching a dog is NEVER safe. We also NEVER use oxidizing dyes (dyes that must be mixed with a developer).  When we add color to a dark coated dog, we use a white, FDA approved, non toxic, ink on the dog's coat first, and then add the brightly colored ink on top.  This special inks main use is for human skin and it is also safe for dogs.  But just because this human product is safe for dogs does not mean all human products are safe for dogs!  Bleaching and oxidizing dyes are NEVER used in our grooming salon!  The colors that we use are washout colors and also semi permanent colors that will fade over time and often lasts until the dogs coat grows out.  Weather you want something done on your dog for a special day or if you want something more permanent that will last for months, we have the right products for your dog!  Please note that our semi permanent dyes work best on white dogs or very light colored coats.  For dark and black coats our non toxic ink will work great!  All dogs that are having semi permanent dye added to their coat, we will first do a patch test 1 week before we add all the color.  Just like people that can have a reaction to a shampoo, sunblock, or lotion it is always possible a dog could have a mild reaction to a dye.  This is why we do a little patch test first.  We've NEVER had a dog have a reaction to any of our products but we still always put the dog's safety first and take the extra time to be safe.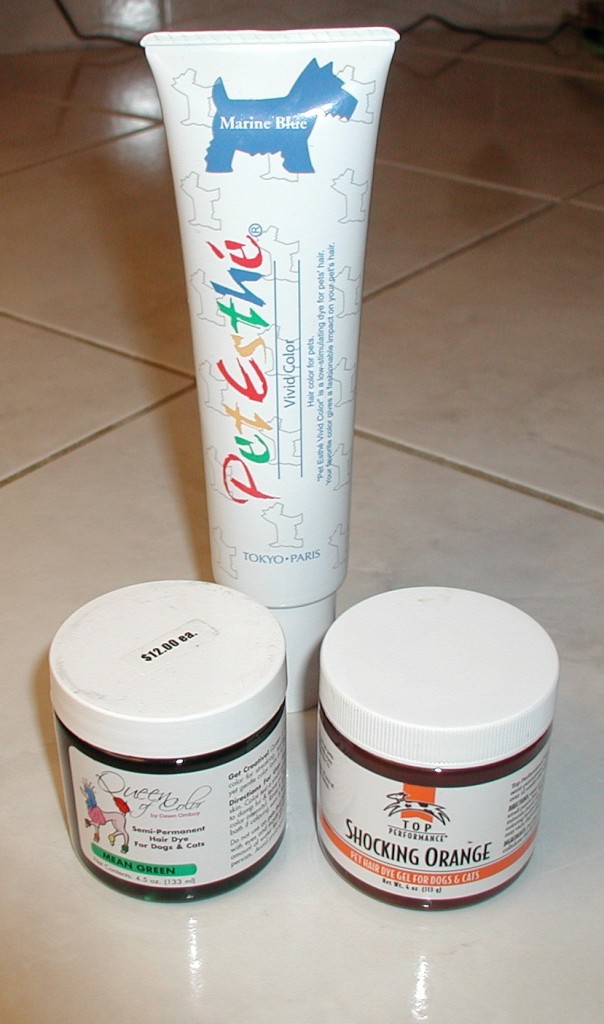 ---
Do Dogs Like Creative Grooming?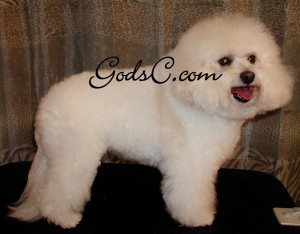 This is our dog Cody.  He is a Bichon Frise with a little bit of Maltese in him.  Cody is a very sweet dog.  He is very attached to our groomer and follows her all around.  Some say he worships our groomer but in reality he just sees her as the leader of the pack.  It takes a special dog like Cody that likes it when we do what is called "Extreme Creative Grooming". But almost all dogs love little creative grooming jobs done on their coats.  Some people may think it is not nice to do this on dogs but the truth is Cody is jealous when our groomer is grooming any other dog besides him.  Extreme creative grooming can take hours but all that time is spent on the dog and they love the attention.  Extreme creative grooming is not all done at one time but spaced out over a few days or weeks so the dog is NOT on the table for all those hours at one time.  Also when Cody is taken out he attracts attention from people that want to pet him and he LOVES that.  So you see creative grooming just gives a dog a lot more attention and love.  Also dogs that are getting this kind of positive attention, causes the dog to become friendlier and more socialized.  Cody was a rescue off the street and was very shy (we suspect that someone use to hit him).  When Cody is in color we see a HUGE difference in his personality!  He is more outgoing and friendlier.  He walks like a supper star and loves to go out and meet his new fans!  Adding color to Cody's coat has helped his self esteem a lot!  We use non toxic, ammonia and bleach free, non oxidizing dyes (it's all perfectly safe).
---
Prices are subject to change at any time and without notice. 
Price List for Creative Grooming
Feather Extensions
Creative Grooming dose not always mean color. It can be accessories added to the dog's coat too or a specail coat trim!  Our feather extensions last up to a month, on some dogs, but they can easily be taken out at any time.  The feathers are so lightweight that dogs don't even feel them in their coat.  The feather extensions are attached with a little crimp bead, to a little bit of hair, and the bead is lined with silicone so it doesn't damage the hair.  $3-$7 each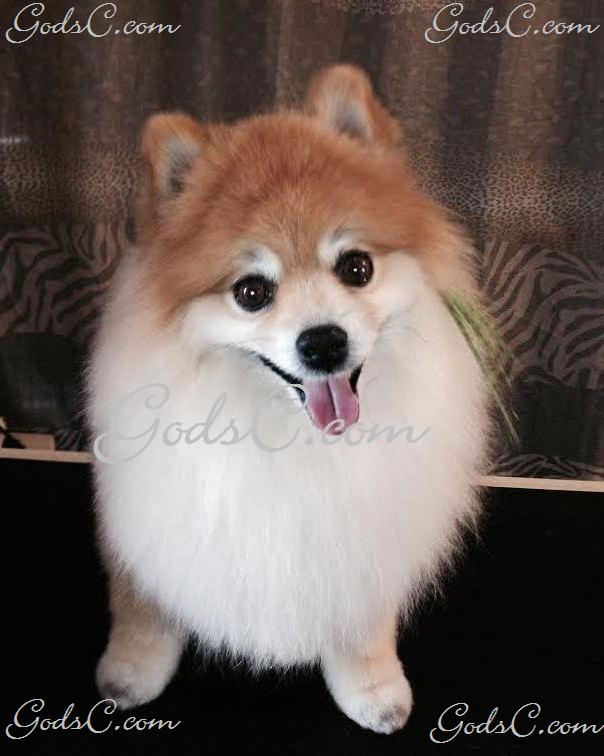 ---
Rhinestone Bling
We use water soluble, non toxic, clear, gel glue or a non toxic, latex free doggy glue that lasts for several days.  It is all 100% safe and the little dot of glue comes right off with a little water or coconut oil depending on what glue we use.  Prices ranges from $2-$5.  The rhinestone bling can last up to a week on some dogs.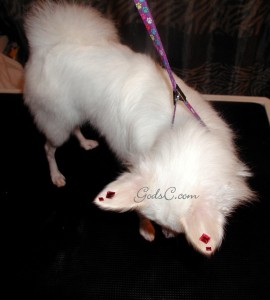 ---
Doggy Nail Polish
We have 11 COLORS to choose from! Doggy Nail Polish! We have all colors to choose from!
Doggy Nail Polish Colors: Basic Black, Shimmer Sapphire, Shimmer Tourmaline, Shimmer Emerald, Shimmer Peridot, Pawsitively Purple, Fire Engine Red, Shimmer Pink Topaz, Raspberry Sorbet, Creme Pink, & Shimmer Citrine.
$5 for 2 paws and $9 for 4 paws.  French tip is extra.  Nail polish is only for dogs that will allow us to work on their nails.  If the dog hates to have their paws touched, this service will not be avalible to them.  With proper training, dogs don't mind to have thier nails painted and some even LOVE it.
---
Ears & Tail Coloring
Price per set of ears or tail with the purchase of a bath or grooming package. $6-$20 + the cost of color product depending if you want a temporary color or semi permanent
---
Designs / Temporay 

Tattoos
We can do a heart, flower, or whatever you want!  We can even do glitter designs! We can free hand and we also have lots of stencils from fish to dinosaurs.  These designs work best on short coats.  Price is $5-$15 or $30 an hour + the cost of color product with the purchase of a bath or grooming package.
Above: Candy Cane ears and a snowflake face!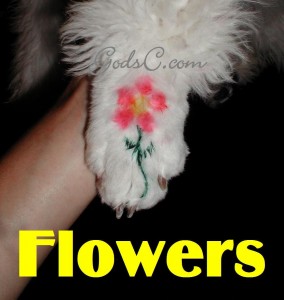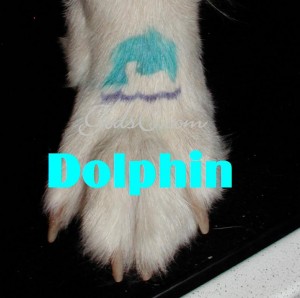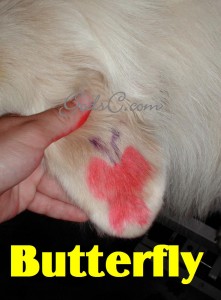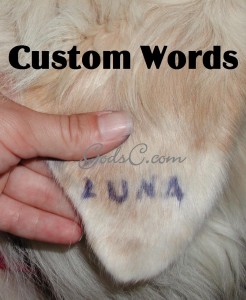 ---
Designs cut into the hair
We can do hearts, flowers, mohawks, or whatever you desire.  Price is $30 an hour + the cost of the color product and with the purchase of a bath or grooming package
---
Full Body Designs
Price is $30 an hour + the cost of the color and with the purchase of a bath or grooming package.
---
Complete body hair dye
Have you ever wanted an all pink pooch or some other colored puppy?  Well now you can!  We will be very careful when working around your pets face and for those dogs that don't like their face messed with we will not color the head, just the body, legs, and tail.  Dogs that will allow work done on their face will have rings around the eyes that will not be colored for safety reasons.  Price is $30 an hour + the cost of the color and with the purchase of a bath or grooming package
---
Extreme Creative Grooming
Price is $30 an hour + the cost of the color and with the purchase of a bath or grooming package
See photos of dogs transformed with Creative Grooming:
Click a link below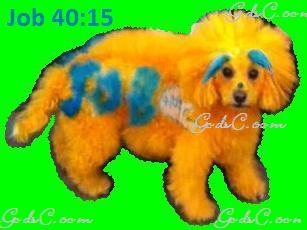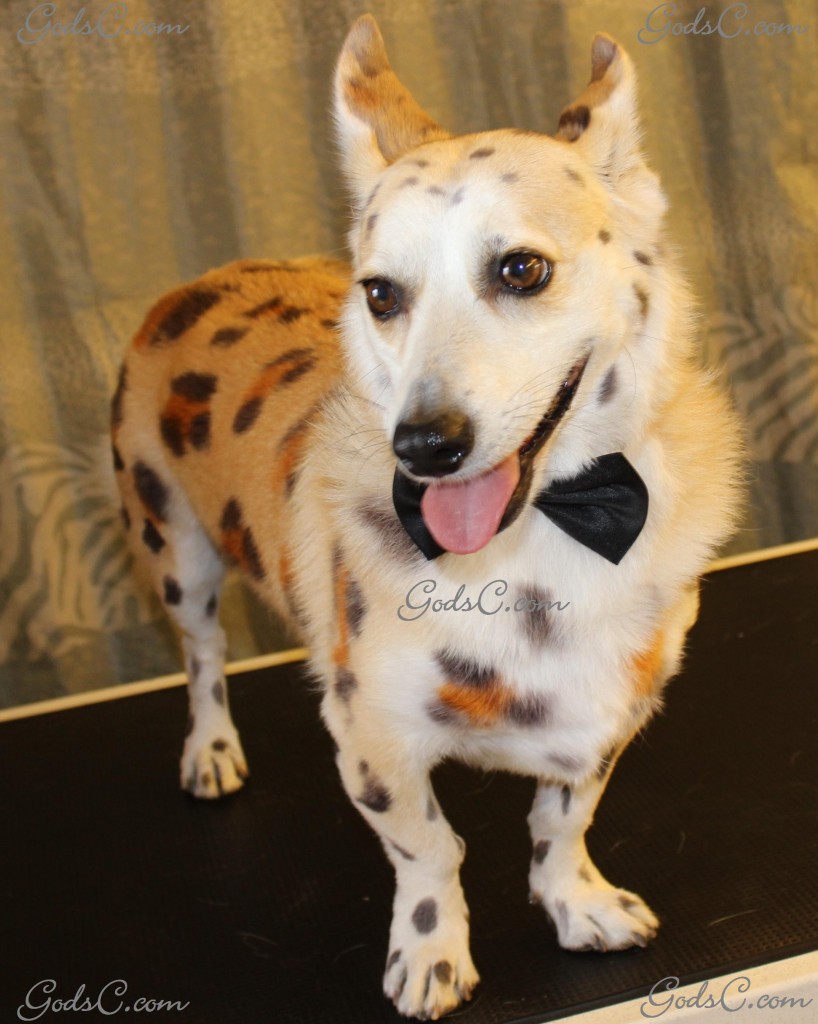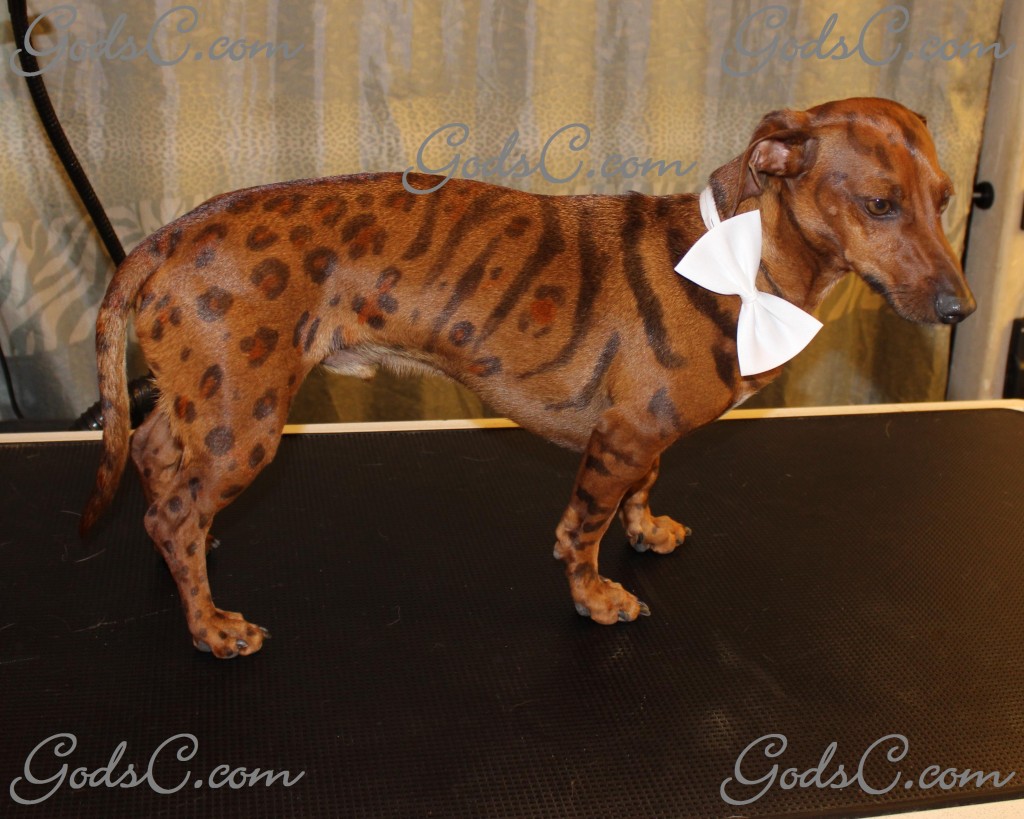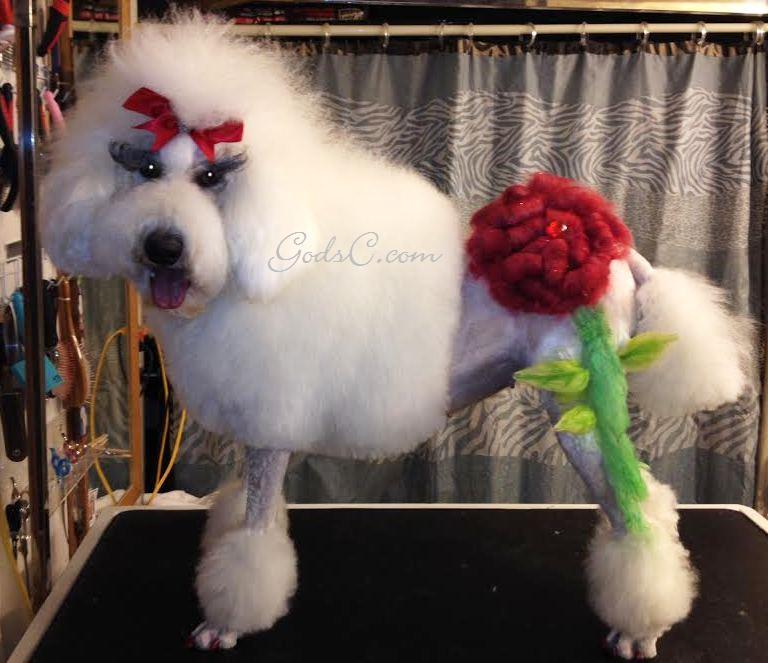 Click a link above
---
Creative Grooming Haircuts
Creative Grooming dose not always mean color.  Here we have some different creative hair styles!
This is Duke in an Asian Flair style.  Do you see rabbit ears?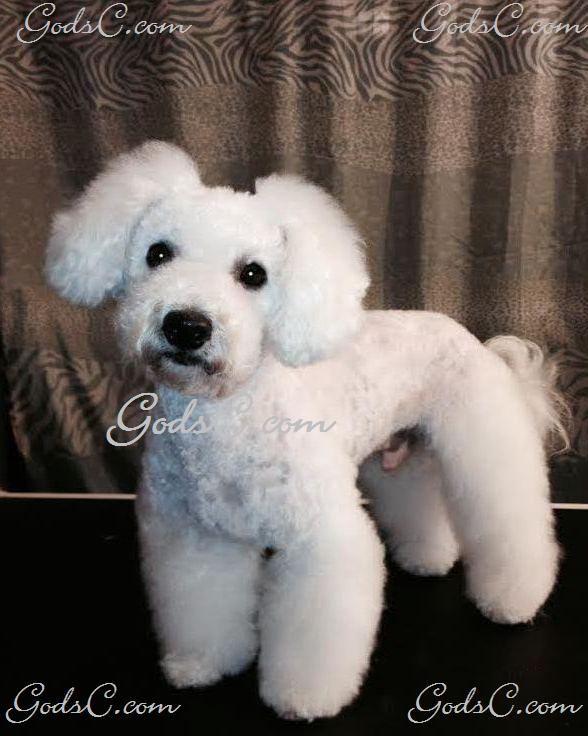 Molly in a fun hairdo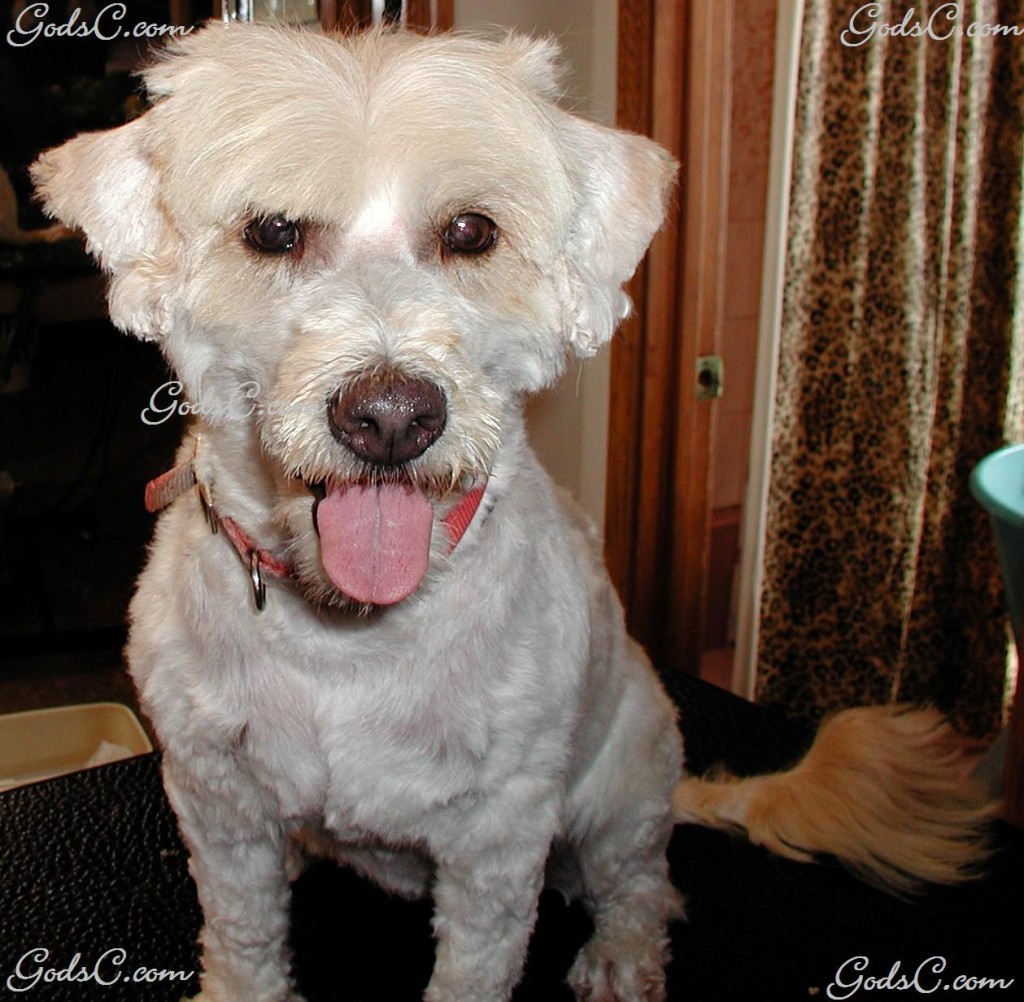 Picasso Thunderpaws with a slight mohawk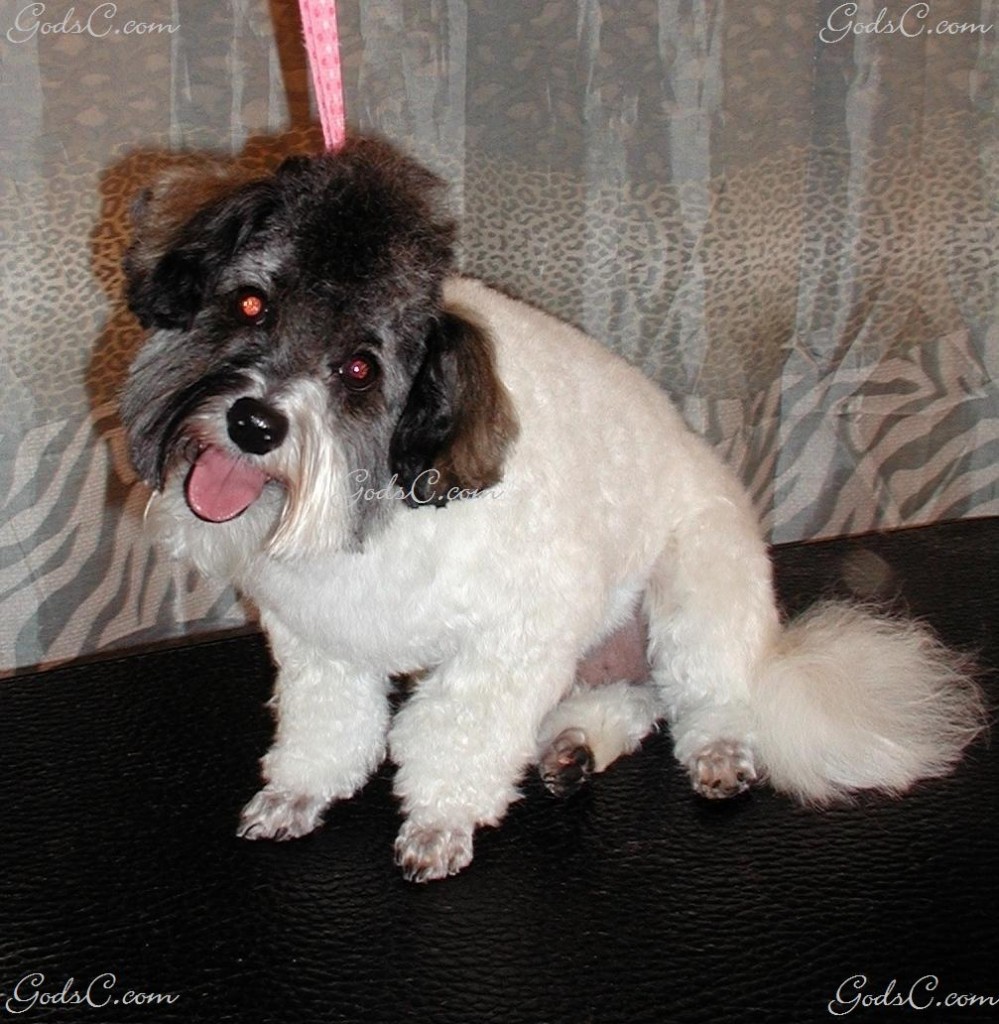 Snickerdoodle the Havanese Mix in an Asian Flair Creative Groom