Congratulations to the 3 Easter Photo Contest winners of 2009!
Thanks to all who participated. The most points you could get was 50. It was a close competition!
1st Place
Quality 10      Action 9      Cute 9.5      Photo fits theme 6      Caption fit photo 9.5      Total 42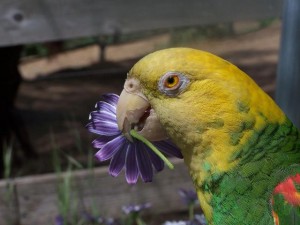 Sent by: Ann of California
Name: Nona
Breed: Double Yellow Headed Amazon Parrot
Age: late teens early twenties
Caption: Nona loves the outdoors and is absolutely enthralled by the spring flowers. In this photo she just had to have one and wouldn't leave me alone until I picked one for her.
2nd Place
Quality 9      Action 8      Cute 9      Photo fits theme 7      Caption fit photo 7.5      Total 40.5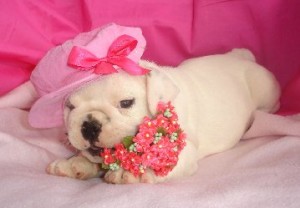 Sent by: Michelle of California
Name: Sadie
Breed: Bulldog
Age: 8 weeks old
Caption: This is Sadie, She is all dressed up for Easter Sunday in her new hat, she can hardly wait till that little bunny show's up, but until then she will just chew on her bouquet…
3rd Place
Quality 6    Action 6    Cute 8    Photo fits theme 9.5    Caption fit photo 9.5    Total 39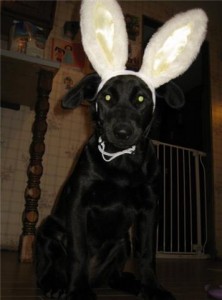 Sent by: Jaimie of New York
Name: Shazzy
Breed: Lab/Spaniel
Age: 4 months old
Caption: Shazzy Bunny